Forty years older than I,
Charles, in his tweed cap, stands starched
in gray chino and blue chambray.
For more than a year his broad tie
has let the same iridescent duck
fly against a vermillion sky.
he oversees the parking lot
I cut through each morning
as I cleave two triangles of cars
when I cut through your lot?"
"Not at all, sir," says Charles
as he stares straight ahead
© by Donal Mahoney.
Used with the author's permission.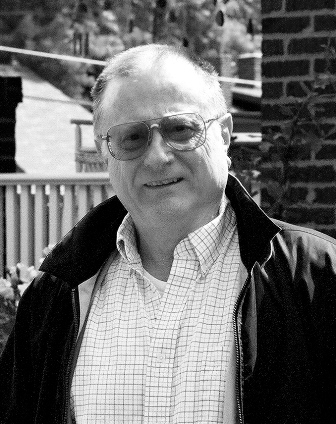 Donal Mahoney lives in St. Louis, Missouri. A native of Chicago, he spent the early Seventies actively submitting poems to print journals and enjoyed some success. He then took a 35-year hiatus from poetry to work as an editor of prose at such lofty establishments as the Chicago Sun-Times, Loyola University Press, and Washington University in St. Louis to support and educate five children. Upon retirement, Donal took to his recliner, and was perfectly happy sitting and listening to Gregorian chant all day. After three years, however, his wife interrupted with a Gregorian chant of her own. She bought Donal a computer and showed him where the boxes of still-unpublished poems had been stored in the basement for many years. Thus Donal began actively submitting again in June 2008. He has since had more than three hundred poems published here and abroad, an achievement he credits largely to his wife.
LindaCrosfield:
Another Donal delight!
Posted 12/12/2013 02:22 AM
ed werstein:
A vivid, visual poem from one of my favorite poets. 'stands starched' and 'starts the windmill of his good arm.' Brilliant.
Posted 12/11/2013 12:30 PM
paradea:
What heart this beautiful poem has!!
Posted 12/11/2013 08:34 AM