give or take a few hundred,
I took for granted, once more,
an absolutely spectacular sunset.
unique and soulful pastels
night squeezed out of day
as it slowly enveloped it.
Your Head in disappointment
a hunk of metal on wheels
along an open road at breakneck speed,
as though that were the miracle,
instead of the fact that I am here,
in this mystical and poetic place,
had a name before I got here,
was learn to speak the language.

†
The poem first appeared in The Green Hills Literary Lantern.
Used here with the authorís permission.
†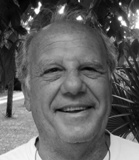 Barry W. North was born and raised in New Orleans. He worked twenty-eight years as a refrigeration mechanic for the St. Charles Parish Public Schools in Louisiana. Since his retirement in 2007, he has won the 2010 A. E. Coppard Prize for Fiction, and Honorable Mention in the 2011 Allen Ginsberg Poetry Awards. His published books are Along the Highway (2010) and Terminally Human (2013). Barry lives with his wife, Diane, in Hahnville, Louisiana, where they enjoy their retirement and spending time with friends and family. To learn more about Barry, visit www.barrynorth.org.†
†
Barry:
It was an absolute pleasure having my poem up on this site in front of such an enthusiastic audience. Thank you all so much
Posted 12/27/2013 08:55 PM
Larry Schug:
We all need a reminder like this poem. Thank you for a beautiful poem, which by the way, gets its message across without preaching. Words, do your magic!
Posted 12/27/2013 04:44 PM
CamilleBalla:
Great realization...great poetic language.
Posted 12/27/2013 02:32 PM
Ralph Murre:
I guess the word "excellent" was here before you, too, but has never been used more appropriately to describe a poem.
Posted 12/27/2013 01:46 PM
Jo:
What a beautiful poem. I too have sinned.
Posted 12/27/2013 01:45 PM
Barry:
Thank you all for the comments. So glad you enjoyed the poem.
Posted 12/27/2013 10:57 AM
Gilbert Allen:
A lovely poem for the third day of Christmas!
Posted 12/27/2013 10:01 AM
paradea:
Fantastic!!!
Posted 12/27/2013 08:57 AM
dotief@comcast.net:
Beautiful!
Posted 12/27/2013 08:45 AM
rksanders@charter.net:
Incredibly beautiful and moving. Thank you.
Posted 12/27/2013 08:36 AM
Buckner14:
I too have sinned. Alas!
Posted 12/27/2013 08:28 AM
mimi:
so so true, thanks for reminding me, Barry!
Posted 12/27/2013 08:14 AM
Katrina:
we can only refract sunset
Posted 12/27/2013 07:23 AM
jeanie:
love it!
Posted 12/27/2013 07:04 AM
fer:
What a lovely way to start my day!
Posted 12/27/2013 06:52 AM
paula:
You've learned the language well!
Posted 12/27/2013 06:38 AM