You burst from the starting gate
and though I pull on the reins,


I hang on for the ride,




longing for 1940's snail-pace years




when I wanted to be older, faster, sooner.


 


Now you race through weeks and months,




rushing to your demise. Do you ever




think of jumping fence,




lying in green pasture,




letting me slip from the saddle




to the spacious terrain of silence




where I can breathe 




reflections about my life,




feel the texture of grass,




and gaze into your tender eyes?
© by
Jeanie Greensfelder.
Used with the author's permission.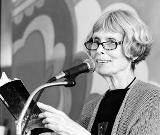 Jeanie Greensfelder is the author of Biting the Apple (Penciled In, 2012) and Marriage and Other Leaps of Faith (Penciled In, 2015. Her poems have been featured on Writers' Almanac and American Life in Poetry. A psychologist, Jeanie seeks to understand herself and others on this shared journey filled, as Joseph Campbell said, with sorrowful joys and joyful sorrows. Jeanie lives with her husband Andy in San Luis Obispo, California, where she volunteers as a bereavement counselor and where she has just been named as Poet Laureate for San Luis Obispo County for 2017 and 2018. Read more of her poems at jeaniegreensfelder.com.
john@poeticmedicine.org:
"to the spacious terrain of silence" Let's all meet there. Well, "all" is a big word. Whoever wants to, let's meet there. I missed the 1940s but in fact I wonder about it,read about it. More tender eyes, less iPads for me.
Posted 01/02/2014 11:59 AM
chris schulz:
"I can breathe reflections about my life", thanks Jeanne. Will walk along the beach in Nipomo today and see myself slipping from the saddle. Maybe I'll see you grazing too.
Posted 01/01/2014 11:12 AM
TheSilverOne:
What a beautiful poem to start the New Year with!
Posted 01/01/2014 10:54 AM
paradea:
Beautiful!
Posted 01/01/2014 09:28 AM
KevinArnold:
A wonderful horse poem, somewhat reminiscent of Jane Hirshfield's The Love of Ancient Horses. A great way to start the new year.
Posted 01/01/2014 09:08 AM
Charly:
Happy New Year..wonderful images
Posted 01/01/2014 08:53 AM
islandspirit:
Lovely. The texture of grass, walking barefoot as child, is a wonderful nostalgic memory.
Posted 01/01/2014 08:48 AM
Janet Leahy:
Perfect poem for the New Year, hope we can find that spacious terrain of silence, at least for a small pocket of time. Thank you Jeannie.
Posted 01/01/2014 08:22 AM
Sue Shanks:
Thanks for your lovely poem this morning and also your website. As a recent transplant from California to North Carolina, I too relish memories of Tibetan monks creating mandala's, the café in Moro Bay, and your wisdom. Thanks muchly!
Posted 01/01/2014 07:51 AM
Barry:
Nice!!
Posted 01/01/2014 06:30 AM
Ross Kightly:
Apart from the impossibility I have always felt of ever successfully getting up onto one of those great big things with a leg at each corner and a bit between the teeth... this is a marvellously-developed metaphor and the final image is wonderful.
Posted 01/01/2014 04:59 AM