when I dust the bedroom ceiling fan?
Lover's sighs, prayers for healing,
nightmare visits, the musk
What memories of feasts eaten
among friends, or family,
do I wash away as I scrub
And once my tenancy expires,
what remains will I leave
© by

 Merle Hazard.
Used with the author's permission.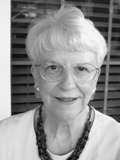 Merle Hazard lives in Macon, Georgia. Her poems have appeared in a number of secular and inspirational publications. A home health and hospice nurse for many years, she worked as a director of programs as well as at bedsides. Now retired, Merle enjoys reading, walking, playing bridge, and spending time with friends and family--including her two sons and five grandchildren.
lincolnhartford:
One of the words for it: limen. A time between times, approaching the not yet revealed. Precious moment when we can see both ways and maybe claim the new. The rhythm of the poem takes me from start to finish, and provides a sense of treasured journey.
Posted 01/02/2014 10:28 PM
CamilleBalla:
Wonderful poem. This can speak to almost everyone. Gives history to the new living quarters -- links past to the present moment. A favorite!
Posted 01/02/2014 09:34 AM
John:
Thanks, Merle, for a fine poem, a remembrance of things past and things to come.
Posted 01/02/2014 08:13 AM
Wilda Morris:
Wonderful images, Merle. It brings back images of moving out of the first house we bought, a very poignant time.
Posted 01/02/2014 07:59 AM