yellow caution, red stop,
but time's taxi sped into town,
dropping winter at our door.
We welcomed it with smiles,
twinkling lights and candles.
Later we put away the cookies,
the wreath, any sign of welcome.
Winter stayed on. We hoped
it bought a two-way ticket,
From Running Counterclockwise (forthcoming from Kelsay Books: Aldrich Press, 2014).
This poem first appeared in Untitled Country Review, 2011.
Used here with the author's permission.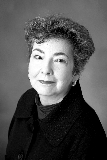 Alarie Tennille was born and raised in Portsmouth, Virginia. A Phi Beta Kappa, she graduated from the University of Virginia in the first class that admitted women. She met her husband, graphic artist Chris Purcell, in college and they now live in Kansas City, Missouri, where Alarie serves on the emeritus board of The Writers Place.  Her new book, Running Counterclockwise, will premier in 2014. Alarie believes her writing skills were born from her parents' knack for storytelling-long, meandering tales she asked to hear again and again. ?There was usually dance music in the back-ground," she says, ?the sounds of cicadas, and the clink of ice in glasses of sweet tea. Weekends brought rolling surf and laughing gulls, and the calliopes of amusement park rides." Learn more about Alarie at http://www.thelivesyoutouch.com/touchjournal/Publications/Tennille.html.
Ross Kightly:
Yes, every year I have to force myself to believe that the Winter Solstice means that the chilly tenant is actually beginning to pack bags for departure - but some time will pass before we can believe it I guess. Particularly love the last line of this one, Alarie!
Posted 01/10/2014 09:43 AM
erinsnana:
I love this!
Posted 01/10/2014 09:14 AM
Janet Leahy:
Nicely done, and this year we'll pay for the taxi that takes winter to the airport. Thanks Alarie.
Posted 01/10/2014 08:54 AM
KevinArnold:
Yes, fresh metaphors!
Posted 01/10/2014 08:04 AM
Larry Schug:
Not only a two-way ticket, but an early departure, I hope. Good poem, and original metaphor.
Posted 01/10/2014 06:33 AM