on the beach, wrapped in plastic,
because the devil has put it there,
If you find a mason jar filled with paper stars,
and leave the jar to fill again.
Or if you find a piece of a teacup
which is the colour of the sea,
Take it out when the sky is rain and grief,
hold it toward whatever light there is,
© by Wendy Morton.
Used with the author's permission.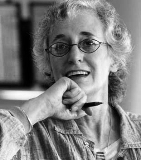 Wendy Morton believes that poetry is the shortest distance between hearts. She has published five books of poetry, a memoir--Six Impossible Things Before Breakfast--in which her adventures as a corporate sponsored poet are revealed, and a set of poetry postcards. Founder of Canada's Random Acts of Poetry project, Wendy received the 2012 Colleen Thibaudeau Outstanding Contribution Award from the League of Canadian Poets, and was the recipient of the 2010 Spirit Bear Award and the Golden Beret Award. Wendy lives in Sooke, British Columbia, where she has spent more than 30 years as an insurance investigator. Learn more about her here.
ghctenmile@earthlink.net:
Thanks, Wendy, for this beautifully written poem. I'll take it out again "when the sky is rain and grief."
Posted 01/13/2014 02:39 PM
savfeatherstone:
Hi Wendy! One of my favorite things is beach combing! Love this poem Thanks for sharing
Posted 01/13/2014 10:05 AM
judithc:
"because the devil put it there" lovely warning re paper stars, teacup, grief,how what comes to us, what we find, changes our careful lives...the way you do here. You're a star.
Posted 01/12/2014 01:15 PM
Jo:
I'm with Larry. One of my favorite YDP poems ever!
Posted 01/12/2014 01:14 PM
David Fraser:
Wonderful, Wendy.
Posted 01/12/2014 11:52 AM
dotief@comcast.net:
Wow! The last few lines knocked me out! Wonderful poem!
Posted 01/12/2014 11:31 AM
Reganz:
Stars in a jar! Makes me want to head to the beach to see what consolation I can find there. Thx.
Posted 01/12/2014 11:20 AM
peninsulapoet:
Beautiful poem. Perfect.
Posted 01/12/2014 10:25 AM
Donna Pflueger:
Wendy, the light you cast upon me from your incredible poem continues to brighten my day. Thank you...
Posted 01/12/2014 10:10 AM
Larry Schug:
One of my favorite YDP poems ever!
Posted 01/12/2014 10:06 AM
dmahoney:
You are inspiring, Wendy! like the piece of pottery on the beach, your words offer hope.
Posted 01/12/2014 08:46 AM
daswan2:
A truly inspired poem, just wonderful.
Posted 01/12/2014 08:04 AM
jeanie:
i love how you can take the paper stars!
Posted 01/12/2014 07:40 AM
Charly:
Absolutely love this!
Posted 01/12/2014 07:12 AM
mimi:
what a little gem of a poem! the last three lines grab me and won't let go--thanks, Wendy..
Posted 01/12/2014 06:38 AM