Winter skies, full of rain,
the hush of daybreak.
A lone blackbird tops the maple,
a robin in the birch,
rivals for territory,
birdsong sprinkles
the morning.
 
Bare branches
yawn into the light,
twinkle with raindrops
on this soft new day.
© by Máire Morrissey-Cummins.
Used with the author's permission.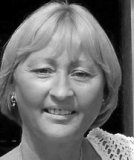 Máire Morrissey-Cummins lives in Greystones, County Wicklow, Ireland. After a lifetime of working, she retired early, embraced poetry and painting, and is enjoying this creative period of her life. Máire's work has been published, worldwide, in many online and print publications. A member of Haiku Ireland, she was named one of the Top 100 European Haiku Writers for 2012.
Eiken:
Thank you everyone :) Irish rain guaranteed this time of year!! Maire
Posted 01/22/2014 01:45 PM
chris schulz:
"Bare branches yawn into the light"...great line Maire!
Posted 01/22/2014 11:35 AM
Dorcas:
A gentle season.
Posted 01/22/2014 10:49 AM
mimi:
lovely, lovely, wish I was there!
Posted 01/22/2014 08:54 AM
Janet Leahy:
You set the scene so well, "birdsong sprinkles the morning," lovely. Thanks Maire.
Posted 01/22/2014 08:06 AM
Charly:
Very lovely poem with tight images!
Posted 01/22/2014 05:14 AM
Ross Kightly:
Full of the close observation of the Haiku-attuned observer! Lovely!!
Posted 01/22/2014 04:59 AM