Apple, blueberry, cherry, peach,
coconut custard, banana cream,
boyhood's soft-focus dreams.
I used to stop at the bakery
on the way home from school
to buy an individual pie
one just the size for a boy
but an aunt with whom I stayed for a while
forbade me them,
deeming pies bad for one's health.
Seeing me once munching one
as I ambled home
she gave me a scolding so fierce
I flinch from it to this day
when pie is forbidden me again
under the strictures of age.
Shades of Simple Simon,
Tom Sawyer, Huckleberry Finn,
and maybe Adam too,
for what do you suppose was his favorite dish
after that first taste of sin?
Which leads me to a metaphysical question,
was pie designed for boys
or boys for pie?
From Explorations (Antrim House Books, 2009).
Used here with the author's permission.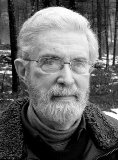 Richard Greene began writing poetry in the 8th grade, inspired by the opening lines of Longfellow's "Evangeline"—"This is the forest primeval. The murmuring pines and the hemlocks / Bearded in moss and in garments green, indistinct in the twilight"—which he was required to read in class. In college, after a classmate deemed Richard's rhyming poem "trite," he stopped writing until, several years later, a class with Henry Rago, then editor of Poetrymagazine, inspired him to resume his efforts. Then poetry fell by the wayside for almost forty years as a busy career in international development consumed his life. As retirement approached, however, Richard's affinity for poetry returned and he now shares a "poem of the week" with some 200 readers, has self-published one book, Explorations (Antrim House Books), and is working on another. Learn more about Richard at www.greenepage.net.
Larry Schug:
Perfect for the Season of Pie this is upon us. Bless the apple and pumpkin harvests, the growers, the pickers and the pie makers. Even Bob Dylan exclaimed "love that country pie!"
Posted 10/19/2021 07:37 AM
Dorcas:
Surely a take off on Biblical Verse "Was the law made for humankind or, humans made for the law." Paraphrased. Thank you.
Posted 01/24/2014 09:03 AM
Ross Kightly:
Coming from a country where pies were meat and succulent, plus my mother's apple ones I reckon I have enjoyed the best of all possible worlds. Like this poem. As we say in my native land: "What a little Ripper!!" Oh, and metaphysics v. pies? NO BRAINER!
Posted 01/24/2014 12:35 AM
Jean Lin:
Lovely and fun. Brings back special memories, especially of walking in the woods with my mother as we recited the prologue to Evangeline. thank you for a joyful start to the day.
Posted 01/23/2014 12:23 PM
TheSilverOne:
Enjoyed reading this poem. We always return to those things that are important to us...whether it's pies or poetry.
Posted 01/23/2014 08:27 AM