You'll wait a long, long time for anything much
To happen in heaven beyond the floats of cloud
And the Northern Lights that run like tingling nerves.
The sun and moon get crossed, but they never touch,
Nor strike out fire from each other nor crash out loud.
The planets seem to interfere in their curves
But nothing ever happens, no harm is done.
We may as well go patiently on with our life,
And look elsewhere than to stars and moon and sun
For the shocks and changes we need to keep us sane.
It is true the longest drout will end in rain,
The longest peace in China will end in strife.
Still it wouldn't reward the watcher to stay awake
In hopes of seeing the calm of heaven break
On his particular time and personal sight.
That calm seems certainly safe to last to-night.
This poem is in the public domain.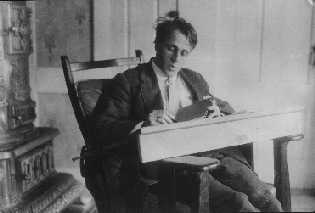 Robert Frost (1874-1963) was born in San Francisco, but moved to Massachusetts with his family after his father's death in 1885 and, ultimately, lived in a number of homes and farms throughout New England. Though he attended several prestigious colleges and universities, he never graduated from any of them. Nonetheless, Robert spent most of his adult life teaching, receiving more than forty honorary degrees, along with four Pulitzer Prizes. Robert's interest in poetry started early; he published his first poem while in high school, sold his first poem at twenty, and by the age of forty, was one of America's best known and best loved poets. Rural life is a consistent theme in Robert's poetry, as is simplistic language that is pleasing to the ear; he felt strongly that poetry was best appreciated when read aloud.
ghctenmile@earthlink.net:
Thank you, Jayne, for posting your husband's photo of Jupiter and its moons--as you put it, it's dazzling. Frost's poem is pretty fine, too. Grace
Posted 01/24/2014 02:31 PM
Ross Kightly:
Not often one finds a poet of Frost's stature upstaged, but that photo pulls it off - and how! Eight oktas cloud cover tonight so I can't do any star-gazing... but who needs to, when there is all of this to think about?
Posted 01/24/2014 12:51 PM
tannerlynne:
what a photograph! and i too think the China line interesting
Posted 01/24/2014 09:07 AM
Sherry:
Good point, John and Katrina. Amazing photograph, Jayne!!
Posted 01/24/2014 08:40 AM
John:
"the shocks and changes we need to keep us sane" Interesting line, perhaps saying something about Frost's character.
Posted 01/24/2014 08:35 AM
Katrina:
I wonder why China was singled out.
Posted 01/24/2014 04:22 AM