†
†
crossing the artistís easel
unused for the past century
†
†
© by Anne Whitehouse.
Used with the authorís permission.
†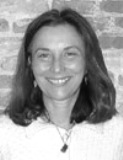 Anne Whitehouse has worked as a resident artist and teacher with†

Teachers & Writers Collaborative

†and New York State Poets-in-the-Schools, and as an instructor in several colleges. In addition to writing poetry, fiction, and journalism, she has had a distinguished career in development work for†

non-profit agencies

. A Magna cum laude graduate of Harvard College, where she was awarded the Joan Grey Untermeyer Poetry Prize and the Leverett House Poetry Prize, Anne received an M.F.A. from Columbia University's School of the Arts. She lives in New York City with her husband and daughter. Learn more about Anne at

†

www.annewhitehouse.com

.
†
Ross Kightly:
I'm not sure about the title here - this is only silent if you ignore the metaphysics and Zen perceptions simmering there, riding in on the light and the wasp's back and subtle enough to hang from the almost invisible spider's filament! Full of meditative power, this is a really effective poem, economical in its selection of detail, and carrying a much heavier load than it seems designed to manage. What a pleasure!
Posted 01/26/2014 07:07 AM