In the morning she gave birth. She had hoped
for children but they turned out to be dogs.
She loved them anyway. They slept next to her
at night. She snuggled them. Years passed
and nothing changed. She realized that the dogs
were better than children. They stayed babies
and she could love them as much as she wanted.
They didnít mind.
†© 2009 by James Cox.
Used with permission.
†
†
†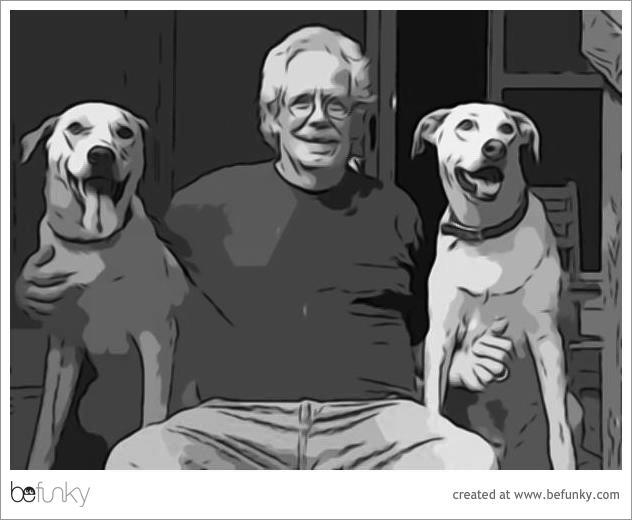 James Cox grew up in both the cities and countryside of Michigan where he learned wilderness survival and a variety of now useless urban skills such as driving fast through heavy traffic. During his youth he was struck by lightning and entered an alternate reality. He developed x-ray vision.†Now retired, he hikes in the mountains, learning wildflower names in and around Whittier, NC.†James has published poetry in a variety of online and press journals including†Silkworm, Pinesong, Cider Press, Pale House, Barnwood, the 2009†Paradigm†anthology, and†Echoes Across the Blue Ridge†(the 2009 NetWest anthology.) He has won prizes for poetry in†Milestone Magazineand in the North Carolina Writer's Network annual contest.†
†
Wilda Morris:
I wouldn't want to change my children (or grandchildren or great-grandchildren) for dogs. Nevertheless I can see the charm of this poem and understand that for the narrator, concluding that her dogs are better than children is a healthy conclusion.
Posted 11/10/2014 12:28 PM
Ross Kightly:
When I was 4 my only friend was my dog D. I love this poem. But I love all 7 of my children & stepchildren too! George, the dog of my "grownup" life was different. Thanks for this charming poem James & Jayne!
Posted 11/08/2014 11:32 PM