From a highway
cut like a ledge
in the mountain
we descend
through clouds
of foliage until
we see white steeples
and the promise of
the old coal town
of her youth
below.

We land on
a faded movie set
of a down town,
where even the graffiti
is beaten of bravado
and the gauntlet of
Norman Rockwell storefronts,
empty as the milk carton
skittering along the gutter are
FOR SALE . . . FOR RENT . . . FORECLOSED . . . FOREVER
© by Tony Gruenewald.
Used with the author's permission.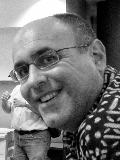 Tony Gruenewald lives in New Jersey, where he works as production administrator for Learning Ally, the nation's largest library for accessible textbooks and educational material for people who are blind or visually impaired or have a print disability such as dyslexia. His collection, The Secret History of New Jersey, was published by Northwind in 2009. Tony's poems have been seen in Edison Literary Review, Mas Tequila Review, U.S. 1 Worksheets, English Journal, The New York Times, and Slow Trains. Learn more about him at tonygruenewald.com. 

GwenSouthgate:
You ARE good, Tony!!! This poem takes the image of 'down town' to a whole new level--lower, of course...
Posted 11/13/2014 01:54 PM
jtmilford:
A sad poem about a rich country.
Posted 11/11/2014 07:48 PM
Jo:
Yes, we have all seen towns like this. Wonderfully visual.
Posted 11/11/2014 12:37 PM
pwax:
We've all seen towns like this. And you make us really see them again (faded movie sets where even the graffiti is beaten of bravado) with fresh images.
Posted 11/11/2014 11:57 AM
rhonasheridan:
This must surely be the perfect showing of how visual words can be.
Posted 11/11/2014 12:59 AM