Though winter is with us still 
the birds have begun to sing
to the cues of spring, 
first a cardinal, then a wren
and now this morning in early March, 
as a chill dawn pinks the sky,
the wistful fluting of a mourning dove
which, after winter's longueurs, 
when few but crows were heard,
now finds itself bestirred 
to loose its song.
From Explorations (Antrim House Books, 2009).
Used here with the author's permission.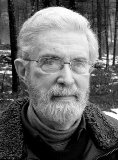 Richard Greene began writing poetry in the 8th grade, inspired by the opening lines of Longfellow's "Evangeline"—"This is the forest primeval. The murmuring pines and the hemlocks / Bearded in moss and in garments green, indistinct in the twilight"—which he was required to read in class. In college, after a classmate deemed Richard's rhyming poem "trite,"  he stopped writing until, several years later, a class with Henry Rago, then editor of Poetrymagazine, inspired him to resume his efforts. Then poetry fell by the wayside for almost forty years as a busy career in international development consumed his life. As retirement approached, however, Richard's affinity for poetry returned and he now shares a "poem of the week" with some 200 readers, has self-published one book, Explorations (Antrim House Books), and is working on another. Learn more about Richard at www.greenepage.net.
Dianna Henning:
Lovely poem, simply stated and elegant. I love how pink is used here as a verb.
Posted 03/11/2014 12:26 PM
TheSilverOne:
After a long, long winter enjoyed reading this poem,.
Posted 03/11/2014 11:51 AM
John:
Birdsong to humansong. Both have music to dream by.
Posted 03/11/2014 10:29 AM
Dorcas:
Very nice. A pleasurable read.
Posted 03/11/2014 10:27 AM
pwax:
I love the musicality of this poem!
Posted 03/11/2014 10:10 AM
peninsulapoet:
I love the music in this poem.
Posted 03/11/2014 10:09 AM
Ross Kightly:
The college classmate's comment reminds us of how careful we must be when saying anything about another's poems. This one, though the subject matter is about as conventional as it gets, deals with it with such assured and easy-flowing opulence that its pleasures are immense. Birdsong. Sure-fire stuff. Only a monster would ever point out that most birds are actually saying stuff like 'Here I am, come and get me Babe, I'm ready for ya with all the luv-luv-luv ya need' or 'I'm here in MY territory so don't even think of moving within sight of me!' Yours, Gorgon McOgreham.
Posted 03/11/2014 04:20 AM