printed all the news fit to print.
Erickson's cow was hit by lightening,
The Polks motored to Chicago
for their grandson's graduation.
Nothing to cause you anger
at the feed store, you could ask how
Mildred's broken leg was coming along,
Johnson's lost calico cat.
was going on.

This poem first appear in the Wilda Morris Poetry Challenge.
Used here with the authorís permission.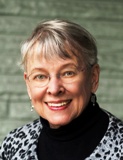 Peggy Trojan retired from teaching English to the north woods of Wisconsin. She enjoys quilting, gardening, picking wild berries, and writing poetry. A member of the Wisconsin Fellowship of Poets, she writes about family, her surroundings and her observations about life.
Buckner14:
Oh, boy, this takes me back! Thanks for sharing it; people who never read a small-town newspaper don"t know how much they've missed!
Posted 03/16/2014 07:25 PM
lincolnhartford:
Well written Peggy. I found such a community in an apt.complex in Chicago, believe it or not. Been looking for another ever since.
Posted 03/15/2014 03:41 PM
Ralph Murre:
Nice work, Peggy. (As I have come to expect.)
Posted 03/15/2014 09:16 AM
tiddles:
My grandmother wrote a "social" column for the Weyawega paper years and years ago.Your poem brought back heritage memories. Thanks. Marilyn Zelke-Windau
Posted 03/15/2014 08:26 AM
TheSilverOne:
What a great reminder of those past days when we felt the safety of a community! Enjoyed reading this...and remembering.
Posted 03/15/2014 07:36 AM
paradea:
Oh, for the good ol' days when that used to be enough! Nice poem.
Posted 03/15/2014 06:18 AM