Tho' there is no new path, just the usual
neighborhood circle, familiar as the salt
caking the pavement squares.
†
Piles of shrinking snow humped up along the curbs,
each night the puddles freeze, each morning thaw,
and grass, clumped and frizzled, and mud.† Mud.
†
Gritty, dull, the land, the houses.† Everything
needs washing, and a second rinse cycle.
But the sky is full of occasion -- robins.
†
in the still-bare trees, twittering, chirruping
cheerily around the entire suburban block.
†
It couldn't be called song,
that curiously bubbling chatter-sound they make,
waxy and bibulous as a pubhouse or bridal shower.
†
cheerio, cheeri-up, killup killaree, killup killaree, cheeri-up, cheerio
†
Come spring, that much-dreamed distant season, these trees
will bust out green, our salt-stained eyes
rejoice -- but not then, not again as
†
everywhere now the chirping of robins, and water running,
and then and now we are arrived at home.
†
From Quiver (Red Dragonfly Press, 2009).
Used here with the authorís permission.
†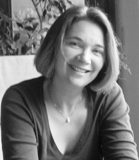 Sarah Sadie lives in Madison, Wisconsin, with her husband and two children. She co-edits the poetry magazine Verse Wisconsin, and is the author of a full-length collection, Somewhere Piano, and two chapbooks: Quiver and Given These Magics.
Jo:
a second rinse cycle rings true, as does the salt-stained eyes--very unique image, and the dreamed distant season. You surely have a way with words. How perfectly you described it. Thanks Sarah.
Posted 03/16/2014 02:34 PM
karenpaulholmes:
Such clear language and fresh images-- Love the pubhouse or bridal shower.I'm glad I live in the south now after many years of winter in Michigan and two years in Madison when my then husband was at UW.
Posted 03/16/2014 01:16 PM
Glen Sorestad:
Your images of Wisconsin Spring are very portable, Sarah. I can see most of them around me in Saskatoon. Spot on!
Posted 03/16/2014 09:41 AM
tiddles:
Your images are so true, Sarah. Love the need for a second rinse cycle! Saw my first robin yesterday. Marilyn Windau
Posted 03/16/2014 09:24 AM
KevinArnold:
What a delightful poem. Having gone to UW I know this particular season, which she's captured better than any photograph could.
Posted 03/16/2014 09:11 AM
mjorlock:
Sarah possesses a sharp eye and unique perspective. Thanks for sharing this poem.
Posted 03/16/2014 08:17 AM
Sherry:
I like how the neighborhood appears kind of dirty and needs washing; I guess that's what April showers are for. Nice poem!
Posted 03/16/2014 07:55 AM
JanetruthMartin:
'Come spring, that much dreamed distant season'...yes! one of many great lines in this poem.
Posted 03/16/2014 07:39 AM
mimi:
no one could have captured this season better--thanks, Sarah!
Posted 03/16/2014 07:33 AM
Janet Leahy:
Yes, I read this through my "salt-stained eyes" and "rejoice" to hear the harbinger of spring sing. Thanks Sarah,
Posted 03/16/2014 07:32 AM
vscholtz:
"the sky is full of occasion" a terrific surprise. Thanks
Posted 03/16/2014 06:16 AM