of Impressionist paintings
printed in black and white.
Finally the cold steps away
for a moment, but tries today
canvas. I smile at the tiny
flags of green waving victory.
I'm the first to discover
that every green is its own green,
sometimes not green at all.
From Running Counterclockwise (Aldrich Press, 2014).
Used with the author's permission.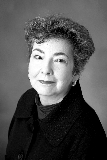 Alarie Tennille was born and raised in Portsmouth, Virginia. A Phi Beta Kappa, she graduated from the University of Virginia in the first class that admitted women. She met her husband, graphic artist Chris Purcell, in college and they now live in Kansas City, Missouri, where Alarie serves on the emeritus board of The Writers Place. Alarie believes her writing skills were born from her parents' knack for storytelling–long, meandering tales she asked to hear again and again. "There was usually dance music in the back-ground," she says, "the sounds of cicadas, and the clink of ice in glasses of sweet tea. Weekends brought rolling surf and laughing gulls, and the calliopes of amusement park rides." Learn more about Alarie at www.alariepoet.com.
Dorcas:
To each his/her green.
Posted 03/19/2014 09:09 PM
rhonasheridan:
So many people are afraid of green. Say it is unlucky. There are so many greens.this charming little poem tells us so - so gently. I loved it.
Posted 03/18/2014 02:57 AM
erinsnana:
lovely!
Posted 03/17/2014 10:28 AM
jedolphin:
Being a native born Midwesterner, this poem speaks to me -- puts me in mind of my home state of Iowa -- we're transplanted to Maine now -- but back to the poem -- you speak of the change of seasons so subtly, so perfectly -- with a Midwestern sensibility -- how it goes forward one day and back the next.
Posted 03/17/2014 09:59 AM
tannerlynne:
AH!
Posted 03/17/2014 09:57 AM
Barry:
A great little poem. Thanks.
Posted 03/17/2014 09:40 AM
KevinArnold:
So smply done, such craft and love.
Posted 03/17/2014 08:47 AM
Wilda Morris:
How true! Many years ago, driving from the Chicago area to Green Lake, Wisconsin I was struck by the many, many shades of green and dashed off a couple lines of poetry about it. Green has never been the same for me since.
Posted 03/17/2014 08:40 AM
Janet Leahy:
I'm from Wisconsin and your first line rings true. I agree with an earlier comment about your lovely name. Happy St Patrick's Day!
Posted 03/17/2014 08:15 AM
Larry Schug:
We're expecting seven-plus inches of snow tomorrow. Even the word green conjures up images of paradise. The final two lines of this poem are so thought provoking, packed with metaphor. Good work. Good words.
Posted 03/17/2014 07:50 AM
TheSilverOne:
So nice to be reminded of greens and Monet when all is grey and white.
Posted 03/17/2014 06:56 AM
fer:
Ah, yes, all those greens. We're off to a slow start to spring, even here in GA, but there are a few greens...and some whites and pinks and yellows. Thanks, Alarie. (I like your name -- never heard it before.)
Posted 03/17/2014 06:40 AM