Hark, I hear a robin calling!
List, the wind is from the south! 
And the orchard-bloom is falling
Sweet as kisses on the mouth. 

In the dreamy vale of beeches
Fair and faint is woven mist, 
And the river's orient reaches
Are the palest amethyst. 

Every limpid brook is singing
Of the lure of April days; 
Every piney glen is ringing
With the maddest roundelays. 

Come and let us seek together
Springtime lore of daffodils, 
Giving to the golden weather
Greeting on the sun-warm hills. 

Ours shall be the moonrise stealing
Through the birches ivory-white; 
Ours shall be the mystic healing
Of the velvet-footed night. 

Ours shall be the gypsy winding
Of the path with violets blue, 
Ours at last the wizard finding
Of the land where dreams come true.
 
This poem is in the public domain.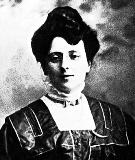 Lucy Maud Montgomery (1874 – 1942) was a Canadian author best known for her novel series, Anne of Green Gables, although she wrote hundreds of poems and short stories, as well. Raised by her grandparents, Maud published her first poem at the age of 16. She earned a teaching certificate and taught school for several years but eventually turned to writing full time while caring, first, for her grandmother and, later, her husband and three sons.
rhonasheridan:
How I loved "Anne of Green Gables". I'm glad she stuck to books! When you see a poem starting with 'Hark' you are right back into 1874! Her books are timeless.
Posted 03/22/2014 11:24 AM