Ho! green fields and running brooks!
Knotted strings and fishing-hooks
Of the truant, stealing down
Weedy backways of the town.

Where the sunshine overlooks,
By green fields and running brooks,
All intruding guests of chance
With a golden tolerance,

Cooing doves, or pensive pair
Of picnickers, straying there -
By green fields and running brooks,
Sylvan shades and mossy nooks!

And - O Dreamer of the Days,
Murmurer of roundelays
All unsung of words or books,
Sing green fields and running brooks!


This poem is in the public domain.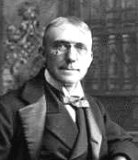 James Whitcomb Riley (1849 - 1916) was an American poet best known for his children's poems and dialect-based verses. James was born in Greenfield, Indiana, and later moved to Indianapolis; homes in both cities are preserved and open to the public today. James was hugely popular during his lifetime. A bestselling author who traveled the country speaking to sell-out crowds, he never married or had children of his own, but he loved children and they loved him back. When he died, more than 35,000 people came to pay their respects as James lay in state under the Indiana capitol dome.  
dotief@comcast.net:
I really like the sound of this one as it rolls off the tongue. Very nice!
Posted 03/24/2014 07:27 AM
rhonasheridan:
And he wrote a Cook-book?! Full of curiosity!Loved the poem.
Posted 03/24/2014 04:51 AM