Can I see another's woe,
And not be in sorrow too?
Can I see another's grief,
And not seek for kind relief?

Can I see a falling tear,
And not feel my sorrow's share?
Can a father see his child
Weep, nor be with sorrow filled?

Can a mother sit and hear
An infant groan, an infant fear?
No, no! never can it be!
Never, never can it be!
And can He who smiles on all
Hear the wren with sorrows small,
Hear the small bird's grief and care,
Hear the woes that infants bear --

And not sit beside the next,
Pouring pity in their breast,
And not sit the cradle near,
Weeping tear on infant's tear?

And not sit both night and day,
Wiping all our tears away?
Oh no! never can it be!
Never, never can it be!
He doth give his joy to all:
He becomes an infant small,
He becomes a man of woe,
He doth feel the sorrow too.

Think not thou canst sigh a sigh,
And thy Maker is not by:
Think not thou canst weep a tear,
And thy Maker is not near.

Oh He gives to us his joy,
That our grief He may destroy:
Till our grief is fled and gone
He doth sit by us and moan.

This poem is in the public domain.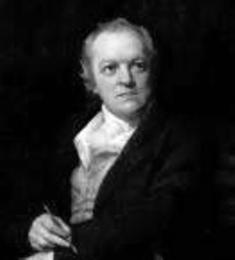 William Blake (1757 - 1827) was an English poet and painter. Best known today for his poem, "The Tyger," Blake enjoyed virtually no acclaim as a poet during his lifetime. Today, however, he is considered an immense talent in both literary and artistic circles. Trained as an engraver, Blake produced all but one of his poetry books himself. His wife—whom Blake himself taught to read, write, and draw—was a valued partner and critic. Much of Blake's work focused on religious themes, with a colorful swirl of fantasy tossed in.
KevinArnold:
It reminds me of a better-thought-out version of the evergreen sermon 'why do bad things happen to good people' and also the shortest verse in the Bible--Jesus wept. It avoids sentimentality by its directness. Thanks, As always, Jayne.
Posted 03/25/2014 09:32 AM
wyantjl42:
Blake's poem may be a little mawkish and sentimental for today's tastes but it expresses universal truths and values and deals with the important attribute of empathy in human relations and is well worth reading today.
Posted 03/25/2014 07:51 AM
lincolnhartford:
I know at least one who feels so deeply what others feel that she cannot bear to listen to the verse so strong, so real, lest she herself is felled by our condition. Blake's poem is so perfectly crafted that we leave behind the "how" and go directly to the "what".
Posted 03/25/2014 07:51 AM