The children are back, the children are back—
They've come to take refuge, exhale and unpack;
The marriage has faltered, the job has gone bad,
Come open the door for them, Mother and Dad.

The city apartment is leaky and cold,
The landlord lascivious, greedy and old—
The mattress is lumpy, the oven's encrusted,
The freezer, the fan, and the toilet have rusted.

The company caved, the boss went broke,
The job and the love-affair, all up in smoke.
The anguish of loneliness comes as a shock—
O heart in the doldrums, O heart in hock.

And so they return with their piles of possessions,
Their terrified cats and their mournful expressions
Reclaiming the bedrooms they had in their teens,
Clean towels, warm comforter, glass figurines.

Downstairs in the kitchen the father and mother
Don't say a word, but they look at each other
As down the hill comes Jill, comes Jack.
The children are back. The children are back.

This poem first appeared in Mezzo Cammin (Volume I, Issue 1, 2006).
Used here with the author's permission.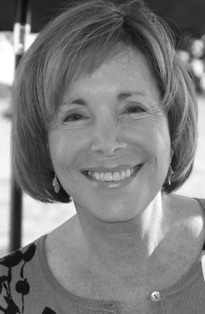 Marilyn L. Taylor served as Poet Laureate of Wisconsin from 2009 - 2010. Her award-winning work has appeared in many journals and anthologies, and she is the author of six collections of poems. Marilyn taught for many years at the University of Wisconsin-Milwaukee and, in 2004, was appointed to a two-year term as Poet Laureate of Milwaukee. She was a columnist for The Writer magazine for five years, and currently serves on the board of directors for the Council for Wisconsin Writers and the Advisory Council for the MFA Program at Western State Colorado University, Gunnison, CO.  Marilyn now lives in Madison, Wisconsin, where she continues to facilitate workshops locally, statewide, and beyond. Learn more about her at www.mlt-poet.com.   
Dorcas:
So much nostalgia packaged up to sit by a cozy fire and ruminate.
Posted 11/16/2014 10:39 AM
Janet Leahy:
I've been fortunate to hear Marilyn read this poem— it was a delight! Thanks for sharing it.
Posted 11/14/2014 10:22 PM
Jo:
One of my favorite Marilyn poems.
Posted 11/14/2014 09:39 PM
tiddles:
Sometimes now they only come home at Christmas, and yes, the little figurines are sometimes still in place, as are the award ribbons, and the wall high school photo memories. The real daughters, when they appear,are such a welcome replacement for the pink tattered binky.
Posted 11/14/2014 07:43 PM
tannerlynne:
OH Marilyn! I especially love the line with their piles of possessions...
Posted 11/14/2014 04:33 PM
TheSilverOne:
Very enjoyable poem! Love it!
Posted 11/14/2014 12:14 PM
Wilda Morris:
One of my favorite Marilyn Taylor poems! It is wonderfully poetic.
Posted 11/14/2014 11:57 AM
erinsnana:
I loved this!
Posted 11/14/2014 09:43 AM
Stephen Anderson:
You have infused your remarkable wit with just the right tinge of sadness, Marilyn. Very nice.
Posted 11/14/2014 09:03 AM
Cindy:
so funny and often true
Posted 11/14/2014 08:56 AM
Sherry:
Very well crafted lines! I sometimes wish my children WOULD come back home. Empty nest is hard!!
Posted 11/14/2014 08:25 AM
mimi:
fun and o so true!
Posted 11/14/2014 07:11 AM
paula:
Many of us have been here. Always good to hear your voice--great fun.
Posted 11/14/2014 05:54 AM
KevinArnold:
I like the repetitious bookends.
Posted 11/13/2014 11:48 PM
Contents of this web site and all original text and images therein are copyright © by Your Daily Poem. All rights reserved.
As an Amazon Associate I earn from qualifying purchases. Purchasing books through any poet's Amazon links helps to support Your Daily Poem.
The material on this site may not be copied, reproduced, downloaded, distributed, transmitted, stored, altered, adapted,
or otherwise used in any way without the express written permission of the owner.