I am forever grateful to my mother
for prayers she uttered alongside
our breakfront, for the yearly
metamorphosis of this

bulky red-brown furniture
into ark and tabernacle.
I am grateful for how she
helped blessings rain down

on its contents, a hardcover
War and Peace no one read,
a chrome serving tray
meant for show,

a miniature torah scroll from
one of the bar-mitzvah cakes,
all visible behind the glass,
baseball card sets, a shoebox

full of family photos stored below,
behind one of its doors,
linen tablecloths and expensive
silverware kept in the drawers.

I am thankful for how she dovined*
before this tall, unsecured
ceilingscraper on the High Holy Days,
how it shook when she rocked

back and forth in awe, how
in a housedress, she turned
a circle of spotless living room
carpet into sacred ground

This poem first appeared in the Paterson Literary Review .
It received an Honorable Mention in the 2007 Allen Ginsberg Poetry Contest.
Used here with the author's permission.
 *Rocking back and forth in prayer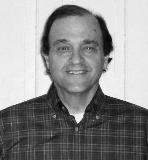 Bob Rosenbloom is the author of one chapbook, Reunion (Finishing Line Press, 2010). Raised in Brooklyn, Bob now lives in Bound Brook, New Jersey, where he is co-host of the Somerset Poetry Group and a member of the Westfield Poetry Group. A certified civil trial attorney, Bob also has a Master's in Creative Writing from City College of New York. Back in the seventies, before law school, Bob often appeared on comedy showcases as a stand-up comic. He once sold six jokes to Joan Rivers and asked her, after a show, if she remembered any of them. She didn't.
AllegraSilberstein:
Thank you for this beautiful poem...Allegra Silberstein
Posted 11/15/2014 11:54 AM
Pruf101:
Yes, our mothers do that, don't they...spin plastic into gold. Thank you.
Posted 11/15/2014 08:58 AM
fuddygail:
Indeed! I can picture your Mother through your words and find it very touching....
Posted 11/15/2014 12:25 AM
Ross Kightly:
Six jokes forgotten by Joan Rivers! Now, THAT is an achievement! I can't even remember how many (if any) of my own jokes I've forgotten. And this is a poem of true beauty. Thank you.
Posted 11/14/2014 11:21 PM