Ten daffodils stand in a pasta sauce jar
giving up their moment of prime
to brighten this cluttered kitchen table.

Yellow lovelies, I am honored
to have you here. Outside you'd be
just another bit of the great flowering world,
but in my kitchen, among the papers,
the bottles, the bananas growing tired
in the bowl, you are amazement itself.

Outside amid the orange blossoms,
the roses, the sweet allysum,
your light scent would be lost.
Here, you turn this morning kitchen
Into a festival of fragrance – you


are the way sunshine smells.
© by Tamara Madison.
Used with the author's permission.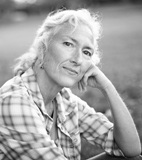 Tamara Madison teaches English and French at a public high school in Los Angeles. Raised on a citrus farm in the California desert, Tamara's life has taken her many places, including Europe and the former Soviet Union, where she spent 15 months in the 1970s. A swimmer and dog lover, Tamara says, "All I ever wanted to do with my life was write, and I mostly write poetry because it suits my lifestyle; I like the way one can say so much in the economical space of a poem."
Donna Pflueger:
A vivid snapshot of the place, the moment and especially the heart. Just beautiful. Love ...giving up their moment of prime...
Posted 04/03/2014 07:50 PM
erinsnana:
I love this!
Posted 04/03/2014 01:24 PM
jakrogers:
You write so beautifully about flowers, plants, nature, and everything else!!
Posted 04/03/2014 12:44 PM
Cindy:
beautiful outlook
Posted 04/03/2014 09:24 AM
paradea:
Love this!
Posted 04/03/2014 07:57 AM
mimi:
lovely, lovely...thanks for this bit of sunshine on a gray morning...
Posted 04/03/2014 07:20 AM
CamilleBalla:
Wonderfully crafted. I like the way you bring outside to inside--right there amid the clutter, the familiar clutter--nudging this reader that I don't have to delay flowers on the table until all is clear. :)
Posted 04/03/2014 06:53 AM
rhonasheridan:
Oh yes! Life without a kitchen is impossible to believe. Daffodils belong in kitchens - along with pansies and nasturtions (ready for the salad!)
Posted 04/03/2014 05:55 AM
Latha:
Absolutely delightful poem! Daffodils are indeed "yellow lovelies' and truly represent Spring and sunshine.
Posted 04/03/2014 01:12 AM