Like a timid woman's smile

Spring eases up hillside cheeks
With dawning joy
Of wildflowers,
Not quite sure
Poppies, lupines or
Shooting stars
Are allowed,
For
Opera buffa orange,
Papillon purple
And yelping yellow
Aren't bashful
At all.
This poem first appeared in Song of the San Joaquin Journal.
Used here with the author's permission.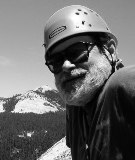 Robert Walton, from King City, California, is retired from teaching after thirty-six years of service. He's also a lifelong rock climber and mountaineer. "My home crags are in Pinnacles National Park, where I've made many first ascents," he says, "and I've also climbed extensively in Yosemite and the Sierras." Much of Robert's writing is inspired by his climbing, but he's also written a novel set during the Civil War. Learn more about him here: http://chaosgatebook.wordpress.com/.
Donna Pflueger:
I love personification and I love your poem. I agree with Jayne and Larry - Perfect!
Posted 04/04/2014 08:55 PM
paradea:
I'm with you, Larry Schug!
Posted 04/04/2014 12:16 PM
erinsnana:
Lovely!
Posted 04/04/2014 09:13 AM
Larry Schug:
I love the names of flowers and colors. The first lines of this poem are exquisite.
Posted 04/04/2014 06:46 AM
rhonasheridan:
Gentle and lovely.
Posted 04/04/2014 05:20 AM