Ablaze with buzz like the motors that drone
bumblebees, in their striped jackets,
black helmets, and snug gloves,
cruise through the coreopsis
while their pollen passengers hug them tight.
And when my water splashes the blooms,
they rev their engines and peel out—
wind flying in their faces—
and they guzzle like Hells Angels
the nectar of an open road.
From Particular Scandals (Wipf and Stock, 2013).
Used by permission of Wipf and Stock Publishers.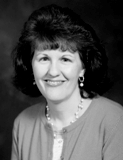 Julie L. Moore believes that writing poetry can be like a game, for it can manipulate language; satirize our clever, yet shallow, society; and even crack jokes. But that's not why she jots notes in her moleskine while washing dishes, playing summer tourist, or trying to endure prolonged and painful illnesses. For her, it's about saving a life: her own and—she hopes, if she's any good at it—someone else's. Author of Slipping Out of Bloom (WordTech Editions) and Election Day (Finishing Line Press), Julie's most recent book of poems is Particular Scandals, published in The Poiema Poetry Series by Cascade Books in 2013. Julie lives in Cedarville, Ohio; read more about her at 
www.julielmoore.com
.
ghctenmile@earthlink.net:
apostrophe or no apostrophe, I like this. Bumblebees are among the more fascinating visitors (or dwellers) in my garden. I may never look at them the same after reading this! Thanks for sharing it.
Posted 04/05/2014 07:43 PM
Dorcas:
"The nectar of the open road." Hey, hey, hey...I think I have drunk (drank) of that.
Posted 04/05/2014 06:32 PM
Jo:
You sure have the "buzz" on this one. Really clever, Julie.
Posted 04/05/2014 03:19 PM
plgoodman:
Ye-ha, Julie, you've nailed this adorable metaphor. I love it.
Posted 04/05/2014 02:49 PM
twinkscat:
Very cute and clever.
Posted 04/05/2014 02:26 PM
moorej:
Thank you for the receptive comments and kind words, everyone. May you all find bumblebees plentiful in your gardens this spring and summer and fall!
Posted 04/05/2014 01:29 PM
chris schulz:
A smile on my face, now buzzing off in my stripped sweats to get coffee!
Posted 04/05/2014 10:26 AM
Wilda Morris:
Wonderful extended metaphor!
Posted 04/05/2014 09:03 AM
Cindy:
awesome!
Posted 04/05/2014 08:45 AM
KevinArnold:
Great fun, another lesson in brevity. Only sixty-eight words, but who's counting? Whose counting?
Posted 04/05/2014 08:35 AM
paradea:
I'll never be able to disturb another bumblebee without the line "they rev their engines and peel out" in my head. Fantastic poem!
Posted 04/05/2014 07:44 AM
penhart:
What fun! Congratulations, Julie---you made my morning ;).
Posted 04/05/2014 07:36 AM
fer:
This is when I really miss teaching sixth grade! It would be such fun to share this poem with my students. Comparing bumblebees and motorcycles rocks!
Posted 04/05/2014 06:57 AM
Larry Schug:
Hmmm... You don't fit the stereotypical image of a biker chick, but you know of what you speak, beautifully. I love to say coreopsis aloud! the last line is awesome. I second Ross on the importance of bees. Plant a flower!
Posted 04/05/2014 06:47 AM
erinsnana:
Loved it ! I knew I loved it when I had to stop reading to look up coreopsis...:)
Posted 04/05/2014 04:50 AM
Ross Kightly:
Without bees everything will soon go. Marvellous to see the little critters thus dignified with a metaphor to live for! Poetry to save lives. With you on that one Julie - this business of writing the stuff keeps me convinced that I still have a brain that sometimes works. Many thanks for the zest and pizzazz of this one.
Posted 04/05/2014 02:19 AM
Sharon Urdahl:
Thank for the "Buzz"...a fun "uplifting" poem...
Posted 04/05/2014 01:27 AM
rhonasheridan:
Wonderful! Absolutely perfect. I am thrusting this under the noses of one or two friends who snear at poetry. 'Old fashioned' they say. Ha ! Thank you for brightening up my morning.
Posted 04/05/2014 01:00 AM