That Sunday, a fog rolled in
From the cool Pacific,
Cocooning eucalyptus trees
Where Monarch butterflies
had come to winter, and making
Magnolia blossoms invisible.
I played choral works
From "Missa Solemnis" on a
Long-play vinyl recording.
You accompanied, hesitantly,
On your new Salzedo harp.
A mocking bird (taking lessons)
Trilled down the chimney.
We laughed, called for it
To recapitulate, but it had fled.
We stopped for conversation.
We drank fine wine,
Then forgot about dinner.

From The Year of the Daisy and Other Love Poems (Mina-Helwig, 2013).
Used with the authorís permission.
†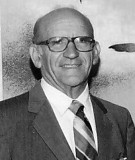 Edward Hujsak (1925 - 2018) was born in New Hampshire to a Polish farming family. A chemical engineering graduate of the University of New Hampshire, Ed worked on propulsion systems at General Dynamics during development of the Atlas and Centaur rockets. He was propulsion engineer on John Glenn's famous orbital flight and served as chief of preliminary design at General Dynamics Astronautics Division for ten years, accumulating more than a dozen patents in the aerospace field. In addition to his numerous engineering achievements, Ed was a writer, artist, sculptor, and builder of furniture and musical instruments. In his spare time, Ed made more than 2000 wooden birds, dogs, and race cars for the San Diego Fine Woodworkers Association, which distributes them to sick and needy children.
tomleech:
Pleasant words, images, relaxing, an enjoyable style of meditatation and comtemplating the good things in life.
Posted 04/10/2014 10:58 AM
Jo:
A perfect moment--aware how everything is one. Loved the poem.
Posted 04/07/2014 11:17 AM
jeanie:
writer, artist, sculptor,& ROMANTIC! very nice.
Posted 04/07/2014 07:25 AM
TheSilverOne:
beautiful...romantic..
Posted 04/07/2014 06:11 AM
Ross Kightly:
Of all reasons for forgetting about dinner... well, this has to be well up there! Lovely stuff.
Posted 04/07/2014 03:40 AM