Sparrows spice an April noon
slice a path through the cedar,
pepper virginal skies,
beaks sprouting with nests.

Wings unzip a tart breeze
rise over pear coloured fields,
the zing and zest of cinnamon feathers
flash beneath budding branches.

Wild garlic stings the moist air,
reeks through lukewarm crevices,
innocent bells on long loopy stems
emerge from pine scented forests.

Snow trickles the mountains
seeps through wildflower meadows,
hooks to the wings of a marsh butterfly
sprinkling a new spring to life.
© by Máire Morrissey-Cummins.
Used with the author's permission.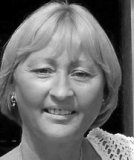 Máire Morrissey-Cummins lives in Greystones, County Wicklow, Ireland. After a lifetime of working, she retired early, embraced poetry and painting, and is enjoying this creative period of her life. Máire's work has been published, worldwide, in many online and print publications. A member of Haiku Ireland, she was named one of the Top 100 European Haiku Writers for 2012.
Eiken:
Thank you all :) Blessings from Ireland!!
Posted 04/13/2014 04:39 AM
Dorcas:
Thanks. We need more spring in our lives, more to look forward to, to graze on.
Posted 04/09/2014 05:40 PM
Cindy:
lovely images
Posted 04/09/2014 08:34 AM
ckessler:
Thanks MĂ¡ire! I enjoyed this poem. Your words really share the sounds and energy of spring. Clyde
Posted 04/09/2014 04:44 AM