The morning's more chill than expected.
Yesterday's rain not yet dried. Today's sun

rising turns the still wet drive to a creek bed of fire,
light rising like flame from the poured

concrete, the sheer everydayness of what
hangs on, the expansion joints that never quite do

the job they were intended to, all the fine cracks
spreading like map lines under this

conflagration. At its edge, the azaleas
reach a little higher for the sky, taller than they had

been last fall. Surely the green of leaf will brown,
the whiplike line of branch will catch.

But now the bushes are covered in bloom,
pulsing with heart's blood. In and out. Contracting.

Relaxing. In. Out. Systole. Diastole. In. Out.
The briefest syllable lengthens and holds.
© by Phebe Davidson.
Used with the author's permission.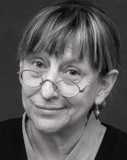 Phebe Davidson is a recovering academic, the author of twenty-some published collections of poems, a contributing editor at Tar River Poetry and a staff writer for The Asheville Poetry Review. Her newest book is Waking to Light (Main Street Rag Publishing Co., 2012).
transitions:
Lovely-thanks, judy
Posted 04/30/2014 05:31 PM
Eiken:
Beautiful :)
Posted 04/13/2014 04:38 AM
Gilbert Allen:
I especially enjoyed the image of the driveway/creek bed at sunrise--even though I didn't read the poem until 4:00 this afternoon!
Posted 04/10/2014 03:24 PM
wendy morton:
The sheer everydayness of what hangs on, such a brilliant poem.
Posted 04/10/2014 10:26 AM
Larry Schug:
"The devil is in the details". I don't think so. There is some kind of god in the details of this poem. Fine work, Phebe
Posted 04/10/2014 07:22 AM
paradea:
Beautiful! Phebe, I look forward to seeing you, at the Lanier Library this month.
Posted 04/10/2014 07:11 AM
mimi:
excellent poem, Phoebe...look forward to meeting you in June! Sharon Auberle
Posted 04/10/2014 06:40 AM
penhart:
Beautiful poem, Phoebe. Thanks for the morning gift of it!
Posted 04/10/2014 06:28 AM
Nabby Dog:
There are so many pleasures in this poem but I will just cite the evocative language ("But now the bushes are covered in bloom, / pulsing with heart's blood") and the comfort of the poem's affirming message. This poem is a gem I will return to again and again.
Posted 04/10/2014 06:18 AM
r1manchester:
and this... i like!
Posted 04/10/2014 04:51 AM