When I am old and worse for wear
I want to buy a rocking-chair,
And set it on a porch where shine
The stars of morning-glory vine;
With just beyond, a gleam of grass,
A shady street where people pass;
And some who come with time to spare,
To yarn beside my rocking-chair.

Then I will light my corn-cob pipe
And dose and dream and rarely gripe.
My morning paper on my knee
I won't allow to worry me.
For if I know the latest news
Is bad,--to read it I'll refuse,
Since I have always tried to see
The side of life that clicks with glee.

And looking back with days nigh done,
I feel I've had a heap of fun.
Of course I guess that more or less
It's you yourself make happiness
And if your needs are small and few,
Like me you may be happy too:
And end up with a hope, a prayer,
A chuckle in a rocking-chair.
This poem is in the public domain.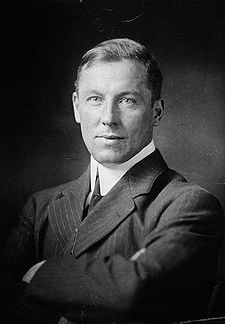 Robert Service (1874 - 1958) was a Scottish poet who became smitten with the Yukon Territory when he moved to Canada at the age of 21. Though he longed to be a trail-blazing cowboy, and many thought he indeed lived the life of which he wrote, Robert was, in fact, a bank clerk. After wandering North America for several years, working at odd jobs and various bank branches, he finally settled down in Dawson City, Yukon, some time after the Gold Rush. Robert began writing poems about his stark and beautiful surroundings, and about the legends and lifestyle associated with that part of the world. When his collection of poetry, The Spell of the Yukon and Other Verses, was published in 1907, it was an immediate success, made Robert wealthy beyond his greatest expectations, and earned him the nickname "The Bard of the Yukon." Robert alternated living in North America and Europe for the remainder of his life--even spending a few years in Hollywood; the cabin in the Klondike where he made his home is now a Canadian national park site.
Cindy:
I think it would take a sweet man to write such a gentle, humble, reassuring poem. I like him.
Posted 04/27/2014 08:50 AM
phebe.davidson@gmail.com:
I grew up with a great reverence for The Cremation of Sam McGee--then married a similarly smitten man. Now that I'm on the rocking chair end of life, this one has tremendous appeal!
Posted 04/27/2014 05:36 AM
wyantjl42:
Very good poem about the reasonable expectations of human life and how experiencing them fully can result in happiness. I intend to read more of his poetry.
Posted 04/26/2014 11:28 PM