When things go wrong, as they sometimes will,
And the road you're trudging seems all uphill,
When the funds are low and the debts are high,
And you want to smile, but you have to sigh,
When care is pressing you down a bit,
Rest if you must, but don't you quit.

Life is queer with its twists and turns,
As every one of us sometimes learns.
And many a failure turns about
When he might have won had he stuck it out.
Don't give up though the pace seems slow,
You may succeed with another blow.

Often the goal is nearer than it seems
To a faint and faltering man.
Often the struggler has given up when he
Might have captured the victor's cup,
And he learned too late when the night slipped down,
How close he was to the golden crown.

Success is failure turned inside out,
The silver tint of the clouds of doubt,
And you never can tell how close you are.
It may be near when it seems afar.
So stick to the fight when you're hardest hit.
It's when things seem worst that
You musnít quit.


Published in the Detroit Free Press (March 4,1921).
This poem is now in the public domain.
†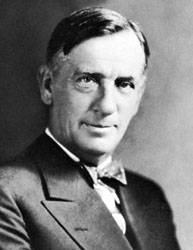 Edgar Guest (1881 - 1959) was born in England, but moved with his family to Detroit, Michigan, when he was ten years old. He worked for more than sixty years at the Detroit Free Press, publishing his first poem at the age of seventeen, then going on to become a reporter and columnist whose work was featured in hundreds of newspapers around the country. Edgar is said to have written some 11,000 poems during his lifetime, most of it sentimental, short, upbeat verse. Critics often derided his work, but America adored him. He was known as the "People's Poet," served as Michigan's poet laureate, hosted a long-running radio show and TV show, and published more than twenty books.
Plant Man:
This poem helped create in me a don?t quit attitude in my life while in high school. I used it in speeches then and nearly forty years later it hangs on the wall of my office and I am still using it to encourage people NOT TO QUIT.
Posted 08/19/2020 09:39 PM
edson:
It's when things seem worst that you must not quit. (You have to fight because you can and you want to) this is nice poem for all person or someone to realize that not quit and still fighting into end
Posted 10/29/2019 09:29 PM
Cindy:
"Success is failure turned inside out" is a brilliant line.
Posted 04/28/2014 08:47 AM
Latha:
The world would be a better place if everyone follows this! Nice poem with a lot of good sense!
Posted 04/28/2014 06:17 AM
KevinArnold:
Oh, yeah. This poem reminds me of Ella Wheeler Wilcox's work--skirting the edge of sentimentality but never going over it. A pep talk I know I can use and I'm sure I'm not alone.
Posted 04/27/2014 11:31 PM