Alice, you saved the day.
From the moment I woke with a throbbing head
till I dragged up to your register at dusk,
this day was twelve hours of worthless.
Took the dog out: he ran away.
No bread, no milk: no breakfast.
Checked the mail: bounced a check.
Penalties on par with broken kneecaps:
highway robbery posing as Customer Service.
Work brought one cretin after another:
rude people, whiny people, impatient people,
stupid people . . . in multiples of three.
At lunch, my root beer was flat, my French fries were cold,
my hose got a run, my cell phone died,
while my headache still throbbed away.
Later, my computer froze up, the copier broke,
the repairman didn't call, but Visa did. Twice.
Heading home, I am a blob of pathetic morosity,
wending my way through drive-time traffic
in search of pharmaceutical relief.
And there, Alice, there you were--
your bright-lipped smile and big-bosomed
"Hey, hon'!" an antidote for this day's
rattlesnake snipes of reality.
With your discordant din of digitized beeps, your
halo of bright orange curls, your aw-buck-up,
tomorrow's-another-day assurance in your
flat-voweled, honey-drenched drawl,
you washed away the sins of the world
with the sweet milk of human kindness.
Bless you, Alice.
Bless you.
Keep the change.
© by Jayne Jaudon Ferrer
Used with the author's permission.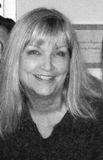 Jayne Jaudon Ferrer is the author of four books of poetry and a nonfiction books about games. A public relations specialist and freelance journalist, Ferrer speaks frequently at chuches, schools, and writing-related events. Her work has appeared in hundreds of publications, ranging from Boca Raton Magazine to Christian Parenting Today, and she is the founder and editor of YourDailyPoem.com. Originally from Florida, Jayne now lives in Greenville, South Carolina. The mother of three sons, she enjoys reading, music, old movies, and good conversation. Learn more about Jayne at www.jaynejaudonferrer.com.
TheSilverOne:
Just read this. Late with e-mails. I LOVED this! We all have those days, and then something wonderful happens...like Robert Frosts "Drift of Snow" Thank you!!!
Posted 05/02/2014 10:32 PM
Ross Kightly:
Oh yes, the great blessing of simple but potent good-natured help from those we might otherwise treat as 'functionaries'. Yes, Alice, Jayne knows. We all know. Bless you indeed and keep some change from me too.
Posted 04/30/2014 04:42 PM
Donna Pflueger:
Jayne, I can see her! And I hope she knows you wrote this for her...for all of the Alices who do double duty as angels when we need them.
Posted 04/29/2014 08:23 PM
jtmilford:
Perfect description of a really bad day with an southern drawl Alice ending.
Posted 04/29/2014 07:59 PM
Mary Lou Taylor:
I'm with you all the way
Posted 04/29/2014 03:49 PM
plgoodman:
Uplifting, Jayne, for sure. I think we can all be our own Alices, even in the face of such days...
Posted 04/29/2014 01:52 PM
wendy morton:
The rattlesnake snipes!!! And then there is Alice. Let's all be the Alices of poetry.
Posted 04/29/2014 12:43 PM
Glen Sorestad:
Loved it, Jayne!
Posted 04/29/2014 10:39 AM
peninsulapoet:
Yesterday, I found my State Tax payment in my copy machine, nicely duplicated but unsent. Help, me Alice. Jayne, with a daily dose of poetry, is even better than an Alice.
Posted 04/29/2014 10:29 AM
Ralph Murre:
Inside every cloud, if we're very lucky (and we are) not a silver lining, but an Alice. And in some cloud for the most fortunate of all, a Jayne.
Posted 04/29/2014 09:09 AM
Jo:
Yes, you spoke for the day/days we've all experienced. And Wilda, I laughed out loud at what your sister said. It's pouring this morning, the wind is snapping at everything. Perfect poem, Jayne.
Posted 04/29/2014 09:09 AM
dotief@comcast.net:
Love it, Jayne! There's nothing more to say, except that this poem is just right--all the way around!
Posted 04/29/2014 08:19 AM
Sherry:
Yes, we've all had days like this one. Thanks, Jayne, for telling us about Alice's bright spot in your day.
Posted 04/29/2014 08:18 AM
Larry Schug:
Alice! Alice! Alice! You deserve a poem from all of us. May we all be as blessed as Jayne, who, by the way, has written a dynamite poem.
Posted 04/29/2014 07:48 AM
Wilda Morris:
How about a picture book of this poem, the adult version of ALEXANDER'S TERRIBLE, HORRIBLE, NO GOOD, VERY BAD DAY by Judith Viorst! My sister used to say, "there will be days like that . . . and then they will get worse."
Posted 04/29/2014 07:35 AM
mimi:
Jayne, I feel your pain--a small poem! Yes, on a gloomy rain-slashing windy morning, this made me smile...thanks!
Posted 04/29/2014 06:52 AM
gigi:
We all need an Alice. Love the poem.
Posted 04/29/2014 06:29 AM
Julie Carlile:
I know someone like that too. She always brightens any day. I should show her your poem.
Posted 04/29/2014 06:16 AM
poetronics:
It's good to know I'm not alone when the occasional 24 hours runs amuck. May we all have bright-lipped buxom Alices in our lives...for those days. Happy Poetry Month. Thanks for all the great poetry!
Posted 04/28/2014 11:20 PM