My fairest child, I have no song to give you;
No lark could pipe to skies so dull and grey:
Yet, ere we part, one lesson I can leave you
Be good, sweet maid, and let who will be clever;
Do noble things, not dream them, all day long:
And so make life, death, and that vast for-ever
This poem is in the public domain.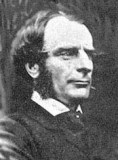 Charles Kingsley (1819 - 1875) was an English writer, minister, and university professor. He wrote in multiple genres, including several books for children, and was especially interested in history and sociatal standards and conditions.
JoAnn Passalaqua:
I love this poem now. I remember grandma signing my autograph book using the first line. I always thought it implied that I was not clever. In context its the opposite. Such a beautiful poem.
Posted 06/08/2022 01:00 PM
poetronics:
Thank you...yes, let us make it so.
Posted 05/05/2014 08:43 PM
Dorcas:
A little sad. Thank you for your selections. I always enjoy them.
Posted 05/01/2014 12:54 PM
Donna Pflueger:
What a sweet and gentle poem to end a FANTASTIC month of poetry. I am sad that it has come to an end. Thank you, Jayne for taking care of us and feeding us not only this month but every day!
Posted 04/30/2014 04:38 PM
Cindy:
Thanks for the sweet journey through the month of poetry. I enjoyed it.
Posted 04/30/2014 09:19 AM
gigi:
Thanks, Jayne, for elating us with a superb variety of poems and authors to celebrate April.
Posted 04/30/2014 06:44 AM
phebe.davidson@gmail.com:
Thank you! It's been a fine month.
Posted 04/30/2014 05:39 AM
rhonasheridan:
What a lovely verse. Delightful
Posted 04/30/2014 03:06 AM