we leaped into the drifts,
till our hands began to freeze,
no match for twenty degrees.
We wore wide rubber boots
Socks, wet with melting snow,
yanked off boots, tossed hats,
I remember her hands best;
her hands feeling for fever,
wrapping a fleecy blanket
washing dishes in a sudsy sink,
folding sheets into perfect squares,
her hands always in the audience
clapping for us, always clapping.
© by Tere Sievers.
Used with the author's permission.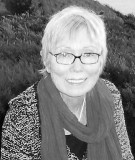 Tere Sievers, originally a Jersey girl, works and lives in Long Beach, California with her husband and their chickens. For the enjoyment of the children in her life, she has published a book of children's poems, Blueberry Pancakes and Monkey Pajamas. Silver Birch Press has included her work in four of their anthologies.
jakrogers:
What great memories and such a lovely tribute to your mother!
Posted 05/08/2014 03:25 PM
mimi:
o yes, wonderful memories for those of us lucky enough to have a mom like that...
Posted 05/08/2014 12:20 PM
paradea:
How beautiful! Bravo, Tere!!
Posted 05/08/2014 12:18 PM
peninsulapoet:
Beautiful poem.
Posted 05/08/2014 10:02 AM
dotief@comcast.net:
Fabulous! "Always clapping."
Posted 05/08/2014 09:29 AM
erinsnana:
This is wonderful! It brought back memories of my dear departed Mum!
Posted 05/08/2014 07:03 AM
rksanders@charter.net:
A lovely memory poem. Thank you.
Posted 05/08/2014 06:36 AM
vscholtz:
You brought back memories for me, too. I can feel that ring of snow around my ankle. And I surely remember my own mother when I read this. Thanks
Posted 05/08/2014 06:08 AM
TheSilverOne:
Beautiful tribute. Stirs memories of being both a daughter, then a mother..
Posted 05/07/2014 11:36 PM
Janet Leahy:
This poem holds a lovely memory, wonderful ending, thanks Tere.
Posted 05/07/2014 11:26 PM