well-worn square of cloth
the handle of a steaming pot,
the other holds a wooden spoon,
potatoes with butter and milk,
freshly freed from their jackets,
time it took to shell them.
as I peel carrots, parsnips,
in honey with a splash of orange juice,
a spoonful of spaghetti sauce
the warmth of bread dough
in the yellow Pyrex bowl,
poking the very exact middle.
†
From Coffee Break for Quilters: A Patchwork of Original Poems (Tree Deck Publishing, 2012).

Used here with the authorís permission.
†
†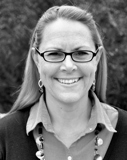 Gretchen Friel is a high school English teacher with a Masters Degree in Secondary English from National-Louis University. Gretchen is passionate about her family, church, writing, quilting, playing soccer, creating scrapbooks, and trying out new recipes with something from the backyard harvest. Her husband, Shawn, is a gardener, Harley rider, and wood craftsman. A breast cancer survivor, Gretchen recently moved "getting published" up on her bucket list. Now that her first poetry book, Coffee Break for Quilters, is complete, she is working on her first young adult novel.
Hearther Awad:
Beautiful and inspiring!
Posted 04/15/2015 08:35 AM
erinsnana:
a wonderful tribute to a mother on this Mother's Day eve.
Posted 05/10/2014 06:27 PM
Jo:
I thoroughly enjoyed your poem today. It made me lonesome for my mother, and gave me pause. Thank you.
Posted 05/09/2014 04:28 PM
Barry:
Great poem!!
Posted 05/09/2014 08:52 AM
Cindy:
"the string of her apron securely tied around our world" is my favorite part. A wonderful poem.
Posted 05/09/2014 08:43 AM
Rob:
A lovely tribute to the power of cooking and mom! So true that both bring comfort and clarity in troubled times....
Posted 05/09/2014 05:15 AM
Katrina:
I can smell the yeast.
Posted 05/09/2014 04:27 AM
Sharon Urdahl:
Lovely honouring of your mother. So many lessons...beautifully remembered. Fed my soul.
Posted 05/09/2014 12:37 AM
Ross Kightly:
Whatever the reasons for the long, thin shape - and who could object? it brings one at last to 'homemade gravy'. And tears of gratitude.
Posted 05/09/2014 12:13 AM
KevinArnold:
Love the long thin form. Reminds me of one of my favorite writers about creativity: "A first-rate soup is more creative than a second-rate symphony." Abraham Maslow
Posted 05/08/2014 11:49 PM
Joe Sottile:
Good to see a long and slender poem that speaks volumes about being a good mother. Bravo!
Posted 05/08/2014 11:39 PM