You, with wings of cellophane,
you, with thread-slender legs,
that see beyond my imagining;
you alight, like a whisper,
then lift into the breeze,
on those wings far too delicate
© by Patricia L. Goodman.
Used with the author's permission.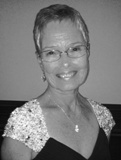 Patricia L. Goodman lives on the banks of the Red Clay Creek in Delaware. She has had many poems published both online and in written journals and anthologies and her first book, Closer to the Ground, is due this summer from Main Street Rag Publishing. With a degree in biology and a career as a professional horsewoman, Patricia's passion, not surprisingly, focuses on the natural world and much of her work reflects this. Luckily, her grandchildren share that passion and are often her companions in adventure.
Jo:
Hi Pat, Just home to read this very delightful poem. Thanks so much.
Posted 05/24/2014 10:57 PM
plgoodman:
Thanks so much, everybody. Love your comments!! Glad you enjoyed it!
Posted 05/17/2014 03:21 PM
paradea:
Love this!
Posted 05/17/2014 10:39 AM
Dorcas:
A reminder of my grandmother who alerted me to every dragonfly she saw. I don't know what I was supposed to remember, except HER.
Posted 05/17/2014 10:00 AM
Janet Leahy:
To "alight like a whisper" we need more of this in our world, thanks Patricia.
Posted 05/17/2014 07:41 AM
laurasalas:
Oh, this is so beautiful! That opening stanza really captures these magical animals!
Posted 05/17/2014 07:26 AM
Larry Schug:
And they eat mosquitos! Really fine poem.
Posted 05/17/2014 07:20 AM
wyantjl42:
Simply exquisite!
Posted 05/17/2014 06:00 AM
gailcomorat:
I love "body of iridescent smoke." Gorgeous poem, Pat!
Posted 05/17/2014 05:50 AM
paula:
A wonderful picture of these bright, little machines.
Posted 05/17/2014 04:18 AM
rhonasheridan:
What a perfect picture. I loved it.
Posted 05/17/2014 04:08 AM
Ross Kightly:
I seem to remember the title of a book I used to read with kids in secondary school was something like 'The Bumblebee Flies Anyway' - things in Nature that defy logic get my vote any day. GO DRAGONFLY! ON WINGS TOO DELICATE TO FLY!! Lovely, observational poem, thank you!
Posted 05/17/2014 01:50 AM
KevinArnold:
Yes, pulsing with life.
Posted 05/17/2014 12:07 AM