porch tree lawn porchtreelawn
herself twirling faster, faster, faster —
her polka-dot skirt billowing
into a parachute. Her body
Before the lawn comes to rest,
the earth's rotation not quick
From Running Counterclockwise (Aldrich Press, 2014).
Used with the author's permission.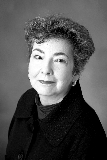 Alarie Tennille was born and raised in Portsmouth, Virginia. A Phi Beta Kappa, she graduated from the University of Virginia in the first class that admitted women. She met her husband, graphic artist Chris Purcell, in college and they now live in Kansas City, Missouri, where Alarie serves on the emeritus board of The Writers Place. Alarie believes her writing skills were born from her parents' knack for storytelling–long, meandering tales she asked to hear again and again. "There was usually dance music in the back-ground," she says, "the sounds of cicadas, and the clink of ice in glasses of sweet tea. Weekends brought rolling surf and laughing gulls, and the calliopes of amusement park rides." Learn more about Alarie at www.alariepoet.com.
Phmontgomery:
Alarie, I felt every word you penned and love the awesome ending!
Posted 07/05/2014 12:03 PM
shendric:
Wow!
Posted 06/23/2014 08:36 PM
erinsnana:
Love the poem, especially the last line!
Posted 05/21/2014 04:44 AM
Eiken:
Wonderful, I am still spinning and that last line is super!!
Posted 05/21/2014 03:51 AM
jtmilford:
You captured the feeling perfectly. Things do change with age. Great poem thanks.
Posted 05/19/2014 03:21 PM
wyantjl42:
A little tour de force. The last line brings a slight touch of reality to the world of the poem that does not completely subdue its overall sense of exhilaration.
Posted 05/19/2014 05:56 AM
Larry Schug:
Absolute killer last line!
Posted 05/18/2014 12:39 PM
Cindy:
When we were kids we played a game called "Statue" and the person who was "it" would spin the other kids and they would freeze in the position they landed. It sounds goofy but we did it over and over. This poem reminds me of that.
Posted 05/18/2014 08:33 AM
Janet Leahy:
A spinning delight to read this, thank you Alarie
Posted 05/18/2014 07:35 AM
laurasalas:
Oh, I LOVE the way you've done your spacing in that opening stanza. Lovely!
Posted 05/18/2014 06:46 AM
Ross Kightly:
When we have Time Machines like this poem who cares how fast or slowly the earth rotates? Wheeeee! Stay on board for the ride as long as you can hold on.
Posted 05/18/2014 02:56 AM
rhonasheridan:
I remember it well!
Posted 05/18/2014 12:45 AM