In another life, we waited
all winter for this, or something
very like it. May ending,
summer hard on its heels, all things
made different by rising
humidity, by heat that will
quickly turn sullen, oppressive,
give not an inch for weeks at a time.
So many things we never
thought to choose, we, hanging
about on the fringes of life, rejoicing
in spite of ourselves this first
day of high eighties, nineties soon
to follow, relieved that our waiting is
over again. We know we will
sweat, as we always do, cursing
the rigor of southern suns,
happy, no matter what we say,
to be wherever we happen to be,
everything heating up again,
another season begun.
© by Phebe Davidson.
Used with the author's permission.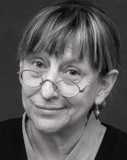 Phebe Davidson is a recovering academic, the author of twenty-some published collections of poems, a contributing editor at Tar River Poetry and a staff writer for The Asheville Poetry Review. Her newest book is Waking to Light (Main Street Rag Publishing Co., 2012).
Ross Kightly:
'to be wherever we happen to be' is exactly it - seasons of grey and blue and every other colour - but to be there is the essence - lovely poem Phebe: thank you!
Posted 05/29/2014 03:10 PM
penhart:
Love the poem, Phoebe. Congratulations!
Posted 05/29/2014 08:50 AM
mimi:
poignant, true and sensual poem...perfect, loved it!
Posted 05/29/2014 06:50 AM
Gilbert Allen:
Phebe's new book, What Holds Him to this World, was published in April by the Ninety-Six Press.
Posted 05/29/2014 06:40 AM
r1manchester:
"So many things we never thought to choose", but "another season" to plant flowers, write poems. thanks, phebe.
Posted 05/29/2014 05:20 AM
rhonasheridan:
I love seasons. Having lived 'tropical' for years I find seasons a good way to have weather. I envy you your 80 and 90 days. Devon is not so lucky. It has been a year - so far - of floods and storms. However... seasonal change is in sight. L liked your version of it a very good 'read' and encouraging.
Posted 05/29/2014 04:55 AM
Katrina:
'Everything heating up again' offers limitless opportunity and a return to the unexpected. Fun.
Posted 05/29/2014 04:46 AM