to have inspiring, upbeat
messages on their trailers
that encourages everyone to
Imagine driving a highway
Yeah, I know what you're thinking -
this would be impossible to enforce,
not to mention unconstitutional,
© by Pat Brisson.
Used with the author's permission.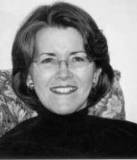 Pat Brisson is a former elementary school teacher, school librarian, and reference librarian in a public library. She has been writing picture books and easy-to-read chapter books for the last twenty years. Pat coordinates Project Storybook, a program at Edna Mahan Correctional Facility for Women in Clinton, New Jersey, which allows incarcerated mothers to select, record and mail books and tapes to their children. She received the N. J. Governor's Volunteer Award in Human Services for this wonderful project. Pat lives in Phillipsburg, New Jersey; learn more about her at www.patbrisson.com.
Heather:
I agree! :)
Posted 04/15/2015 08:39 AM
tannerlynne:
yeah!Pat! and Jayne I like the idea if putting "I like Poetry" on our cars...
Posted 05/30/2014 02:49 PM
Janet Leahy:
This would make driving so much more fun! Thanks Pat.
Posted 05/30/2014 02:08 PM
TheSilverOne:
Great idea! I wish....
Posted 05/30/2014 08:03 AM
mimi:
yes, brilliant!
Posted 05/30/2014 07:25 AM
erinsnana:
Love it!
Posted 05/30/2014 06:25 AM
Wilda Morris:
Maybe each of us should bring this poem to the attention of local trucking companies!
Posted 05/30/2014 05:45 AM
Ross Kightly:
This marvellous poem SO fits with one I just wrote this morning urging myself to be always what the Kane Trucks message recommends. There is no enforcement necessary - I am smiling like a happy fool as I think of such trucks! Thanks for this continuation to my day, Pat and Jayne!
Posted 05/30/2014 01:59 AM