Can't fold the legs quite
right for sitting, and L4 and L5
collapse when getting up without hands,
and, oh yes, knees hurt . . . well . . . twinge
after sitting cross legged,
In, out, hear your breath,
get in touch with your core.
of palms pretty well.

Balance ... not so good

and groin muscles... sore,

but I do get the breathing.

I am, in fact,

a little concerned that I am so

good at the breathing I might

faint, especially during the

Sun Salutation—which requires

a sequence of moves

that I can never remember.

I simply focus on the positive: my

talent for breathing is a gift.

I am determined to cull

this ancient venerable practice

and extract only

what I really need and

breathing is right up on top

of my short list.
© by Anita S. Pulier.
Used with the author's permission.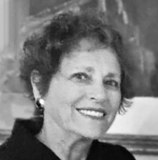 Anita S. Pulier, after many years of practicing law in New York and New Jersey, served as a U. S. representative for the Women's International League for Peace and Freedom at the United Nations. Currently, she is a Trustee of the Jane Adams Peace Association. Anita's chapbooks, Perfect Diet and The Lovely Mundane, were published by Finishing Line Press in 2011 and 2013, respectively, and her poems have appeared in numerous online and print journals. Anita and her husband divide their time between New York and Los Angeles. Learn more about her at http://psymeet.com/anitaspulier/.
rhonasheridan:
My iPad insisted on 'scene' inside of ' seen'. It has a mind of its own sometimes! Sorry
Posted 06/04/2015 01:04 AM
rhonasheridan:
Been there - done that. Tied myself in knots while agonisingly saluting a seldom scene sun. This cheered me up a lot - so I'm not the only sufferer!
Posted 06/04/2015 12:59 AM
Shoshauna Shy:
This is terrific!
Posted 06/03/2015 05:13 PM
loisflmom:
Forwarding this to my husband, who is just beginning yoga. I know he'll relate!
Posted 06/03/2015 09:05 AM
Larry Schug:
As the poet, Barton Sutter, wrote in a book he signed for me, "Keep breathing". Everything else follows. Anita, you got it right in a beautiful way.
Posted 06/03/2015 07:37 AM
Supa:
Loved the poem tho' I've never done yoga. Then looked up vinyasa because I like discovering new words. Thx to both Anita and Katrina.
Posted 06/03/2015 03:36 AM
Katrina:
Vinyasa!
Posted 06/03/2015 02:48 AM