Although all are not
created equal,
America's most 
egailitarian institution is
the rest area,
where only the display
of a handicapped
parking tag offers
any semblance of 
advantage.
And while we assess the merits
of the facility
on criteria of cleanliness, perception of 
safety, refreshment selection,
and hand-drying technology,
everyone – the biker, the banker,
the trooper, the trucker,
the lawyer, the laborer
the chaffeur and the chauffeured –
every ripple in the roiling river of humanity
called America
has to scramble past
the temptations of fast food 
and vending machines
to tend to the business
no one, no matter how rich
or otherwise powerful, can outsource, 
ignore, or pay someone
under the table to
attend to.
This poem first appeared in Edison Literary Review.
Used here with the author's permission.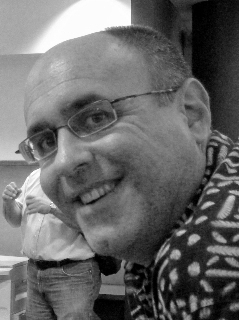 Tony Gruenewald lives in New Jersey, where he works as production director for Learning Ally, the nation's largest library for accessible textbooks and educational material for people who are blind or visually impaired or have a print disability such as dyslexia. His collection, The Secret History of New Jersey, was published by Northwind in 2009. Tony's poems have been seen in Edison Literary Review, Mas Tequila Review, U.S. 1 Worksheets, English Journal, The New York Times, and Slow Trains. Learn more about him at tonygruenewald.com. 
rhonasheridan:
Delightful,! To make something so every-day sound so funny and so special is a real art.
Posted 06/04/2015 12:51 AM
michaeleddie:
Clever, articulate social criticism. I wonder if I ever again will be able to "tend to the business" without recalling I can't outsource, ignore or pay someone under the table to attend to it. Thoughts of Denny Hastert come to mind, a blight on my state and alma mater too. Thank you, Tony.
Posted 06/02/2015 04:36 PM
paradea:
Good one!!
Posted 06/02/2015 01:06 PM
barbsteff:
What fun! I love the litany of users, from biker to the chauffeured, and the flow of the languge. Truth spoken with grace and subtlety.
Posted 06/02/2015 11:54 AM
Supa:
Reading again. Love the poets smile. Just a hint of mischief. Delightful command of English.
Posted 06/02/2015 10:41 AM
Larry Schug:
Poets are so awesome! This fine poem is another lesson in paying attention. Good work, Tony. I'm picturing the rest stop along I-35, south of Duluth, Minnesota. It has a view of Lake Superior.
Posted 06/02/2015 09:56 AM
wordlover:
This poem is so much fun! Thank you for the smile. All so true!
Posted 06/02/2015 09:53 AM
cork:
I will be doing Wyoming I-80 rest stops today and will think of this poem.
Posted 06/02/2015 08:24 AM
Glen Sorestad:
What a great way to start the day, Bravo, Tony!
Posted 06/02/2015 08:21 AM
wyantjl42:
Lively wit and polish, complement mellow reflection
Posted 06/02/2015 07:59 AM
plgoodman:
Oh my! How the poet doeth speak the words we mortals do not even dream!
Posted 06/02/2015 07:00 AM