We watch the stars slowly begin their twinkling
at Red Rocks or Aspen or a park in New York City
or a smaller town where perhaps the Rec Committee
has bent a few rules and the oft-broke Arts Commission

found some funds to get the thespians to memorize
those long soliloquies for almost nothing.
Volunteers have parked cars and ushered
people to their seats to keep ticket prices down, so

the house is packed and the meadows blanketed. 
Once the players start, the amazing turns of phrase
transfix us as night moves toward total darkness
and the actors seem so close we can touch them.

In the newfound intimacy we swoon at the lovers'
kisses and that their five-century-old bawdy badinage
is still alive today. Many of us still hope-against-hope
for the lovers to make things work until we slowly admit

again what we've known along: they are star-crossed.
Still we smile as the curtain call looms, knowing Shakespeare
will proclaim an elegant order behind tonight's tragedy,
and, when the players bow deeply, we will rise.


© by Kevin Arnold.
Used with the author's permission.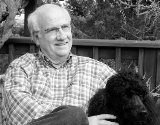 Kevin Arnold holds an MFA in Creative Writing from San Jose State University. Based on a story extracted from one of his novels, the San Francisco/Peninsula California Writer's Club named him Writer of the Year for 2014-105. Kevin enjoys skiing, playing competitive tennis and duplicate bridge, and is participating in a novel intensive with Julia Glass at Yale. He likes Bailey's, Johnny Cash, Kelsea Ballerini, Willie Nelson, and has a soft spot for Judy Collins.
Mary Lou Taylor:
An elegant poem, Kevin. I was with you all the way.
Posted 06/13/2015 11:03 AM
Cindy:
lovely
Posted 06/13/2015 08:48 AM
John:
A fine homage to Shakespeare and to us, amateurs all.
Posted 06/13/2015 07:52 AM
Larry Schug:
These words take me out of the chair I'm sitting in and transport me inside this scene, just the way good poems are supposed to do.
Posted 06/13/2015 07:47 AM
Supa:
Just marvellous!
Posted 06/13/2015 05:28 AM