lined up at Central Park,
waiting with equine patience,
of racing across the steppes,
powering a chariot in the Hippodrome
or, splendidly caparisoned,
bearing the flower of knighthood
© by Richard Greene.
Used with the author's permission.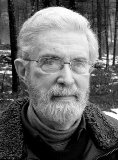 Richard Greene began writing poetry in the 8th grade, inspired by the opening lines of Longfellow's ?Evangeline"—?This is the forest primeval. The murmuring pines and the hemlocks / Bearded in moss and in garments green, indistinct in the twilight"—which he was required to read in class. In college, after a classmate deemed Richard's rhyming poem ?trite,"  he stopped writing until, several years later, a class with Henry Rago, then editor of Poetry magazine, inspired him to resume his efforts. But poetry fell by the wayside for almost forty years as a busy career in international development consumed his life. As retirement approached, however, Richard?s dedication to poetry returned and he now shares a "poem of the week" with close to 200 readers, has self-published one book, Explorations (Antrim House Books), and is working on another. Learn more about Richard at www.greenepage.net.
Katrina:
Thank you, Richard. After a career in accountancy, I am trying to learn the importance of numbers. In the process I learn the verb 'caparison' and hence find value. The economy can wait in line for the deportment your horses demonstrate.
Posted 06/16/2015 03:29 AM
phoswald:
A pleasantly vivid memory of times I visited New Yorkand watched the horses and their carriages.
Posted 06/14/2015 03:18 PM
transitions:
Love horses, love this poem! That's the sweet and short of it!
Posted 06/14/2015 02:18 PM
Richard Greene:
In response to Katrina, yes, the numbers do refer to streets, but, in fact, 59th Street is Central Park South from 5th Avenue to Columbus Circle, and 6th Avenue has been Avenue of the Americas for many years. However, a line reading "at Central Park South and Avenue of the Americas" would have been cumbersome and wouldn't have sounded as good as "at 59th and 6th" with its alliteration and slant rhyme (lists and 6th). That's what they call poetic license. Jayne, Can this be forwarded to Katrina? Richard Greene
Posted 06/14/2015 12:01 PM
rhonasheridan:
I had a magic evening in 1944 - clip- clopping through Central Park. The moon was shining, New York looked wonderful. - and thank you so much for bringing back that memory.
Posted 06/14/2015 07:56 AM
Katrina:
I liked this. I am guessing the last line refers to the names of streets.
Posted 06/14/2015 07:32 AM
Supa:
Short, but powerful I like his use of English.
Posted 06/14/2015 05:41 AM