Apple peelings
red and moistened
slide from the knife
onto my calico apron
in a large, curly heap.
I listen to the chatter of
my family around the table.
Over and over,
I slice pieces from my apple,
and eat them from the knife
like my father before me,
until nothing is left but the core.
That's where I like to begin
my story.

From When the Sap Rises (Finishing Line Press, 2008)
This poem previously apeared in Hard Row to Hoe. 
Used here with the author's permission.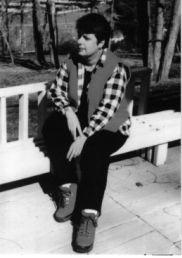 Glenda Barrett, a native of Hiawassee, Georgia, is an artist, poet and writer. Her writing has appeared in Woman's World, Chicken Soup for the Soul, Farm & Ranch Living, Rural Heritage, Kaleidoscope, Journal of Kentucky Studies, Smoky Mountain Living, Georgia Magazine, and many other publications.
karenpaulholmes:
Once again, Glenda nails it! Very nice and precise poem.
Posted 11/22/2014 01:27 PM
Barry:
Simple and beautifu
Posted 11/22/2014 12:56 PM
peninsulapoet:
Good poem.
Posted 11/22/2014 12:51 PM
Wilda Morris:
I like where this poem goes, and how it got there.
Posted 11/22/2014 11:49 AM
anne.lehman2929@att.net:
This poem is a gentle, lovely remembrance.
Posted 11/22/2014 10:18 AM