I planted pansies today -
They smiled as I rescued them -
And pushed them straight into the black earth.
Purple ones with inquiring faces,
Yellow ones with halos all around -
And my favorite - white - so regal and yet so humble
Nodding in agreement to the wind.
I planted pansies today.
I planted hope for sure.
© 2009 by Tica Tallent
Used with the authorís permission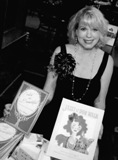 Tica Tallent lives in Anderson, South Carolina. A graduate of the University of South Carolina with a master's degree from Clemson University, Tica taught elementary school for ten years before switching careers to become a model and personal shopper. She currently teaches modeling and etiquette classes at the Anderson Art Center. Tica, the author of two books, has written poetry throughout her life but began using it as a way to heal and encourage others after the death of her father in 2007.

Dorcas:
To plant is to attest to faith and hope. Thank you for your reminding spot.
Posted 12/02/2014 03:01 PM
barbsteff:
Yes!
Posted 11/23/2014 03:36 PM
plgoodman:
Just beautiful, Tica. You have captured the essence of flowers, of joy and of hope in one simple, lovely moment. Thank you.
Posted 11/23/2014 02:30 PM
loisflmom:
Lovely. I am also a pansy fan. Seems like each one has its own personality
Posted 11/23/2014 10:52 AM
Barry:
Another beautiful little gem.
Posted 11/23/2014 06:12 AM
erinsnana:
Nice...
Posted 11/23/2014 05:32 AM