He wears hats — dress hats —
fedoras, derbies, Irish wool caps
to keep his head warm in winter,
shaded in summer. To recall
Cary Grant, Sinatra, and Bogart.
to the local theater. We bought
Fedora scored a leading role,
its portrait on the program cover.
"My hat!" he said, like a proud
That hat, relined in red satin,
loves the lights and applause.
It's a good thing he gave it away.
We could never afford its upkeep.
From Running Counterclockwise (Aldrich Press, 2014).
Used here with the author's permission.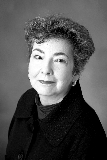 Alarie Tennille was born and raised in Portsmouth, Virginia. A Phi Beta Kappa, she graduated from the University of Virginia in the first class that admitted women. She met her husband, graphic artist Chris Purcell, in college and they now live in Kansas City, Missouri, where Alarie serves on the emeritus board of The Writers Place. Alarie believes her writing skills were born from her parents' knack for storytelling–long, meandering tales she asked to hear again and again. "There was usually dance music in the back-ground," she says, "the sounds of cicadas, and the clink of ice in glasses of sweet tea. Weekends brought rolling surf, laughing gulls, and the calliopes of amusement park rides." Learn more about Alarie at www.alariepoet.com.
anne.lehman2929@att.net:
Wonderful...my mother wore hats and she looked lovely...however, most hats are to large for my head...I miss her and her hats...thanks for the reminder...
Posted 07/08/2015 06:21 PM
transitions:
Clever and enjoyable!
Posted 07/08/2015 11:22 AM
Mary Lou Taylor:
So like your take on the relined Fedora!
Posted 07/08/2015 11:21 AM
rtaylor947@aol.com:
Love this poem, Alarie!
Posted 07/08/2015 10:31 AM
KevinArnold:
Fun
Posted 07/08/2015 08:19 AM
rhonasheridan:
Delightful. Really made me chuckle!
Posted 07/08/2015 03:30 AM