expose gutters— stanchions
This poem first appeared in Fox Cry Review (April 2014).
Used here with the author's permission.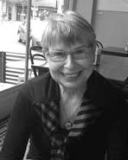 Marilyn Fleming was born and raised on a dairy farm in Wisconsin, an experience that often makes its way into her poetry. A fan of oriental forms of poetry, Marilyn's work has appeared in various literary journals she hopes to have her first chapbook completed before the end of the year. A prolific reader who also loves gardening, Marilyn lives in Pewaukee, Wisconsin with her husband, Keith. Learn more about her at marilynflemingpoet.wordpress.com.
Jo:
Welcome. Welcome. What a lovely surprise this afternoon. Beautiful poem.
Posted 07/25/2015 01:11 PM
transitions:
Beautiful imagery, thank you for sharing your memories ~
Posted 07/25/2015 01:03 PM
MichaelEddie:
Go, Marilyn. If they're anything at all like this, you'll have a fine chapbook.
Posted 07/25/2015 08:55 AM
Dorcas:
Pleasant times we have passed through, such a part of us andwe are grateful that they were there for us. But, the wonder of the future still remains.
Posted 07/25/2015 05:00 AM