You have a mandala on your bicep
Your ex-wife's name on your chest
A tsunami crashes on your left thigh
and on your right – a colorful glob
I can't decipher from across
the coffee table.
 
I have my hair still dark in places
but mostly white, tufting out
around my face.
 
You have a vine with roses
twining around your left arm;
I have scars on my forearms
from sizzling cookie sheets.
 
You have your German Shepherd's
portrait on the other arm
and I have a bristling halo of lines
radiating out from my lips.
 
You have four lines from a poem
by Rumi in blue ink on your back;
I have puckering skin on my belly
where my babies and the sun
have done their handiwork.
 
You got yours in a shop on 4th Street;
I got mine everywhere I've ever been.
Life is my tattoo artist.

© by Tamara Madison.
Used with the author's permission.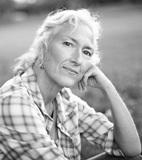 Tamara Madison teaches English and French at a public high school in Los Angeles. She was raised on a citrus farm in the California desert, and life has taken her many places, including Europe and the former Soviet Union, where she spent 15 months in the 1970s. A swimmer and dog lover, Tamara says, "All I ever wanted to do with my life was write, and I mostly write poetry because it suits my lifestyle; I like the way one can say so much in the economical space of a poem."
barbara eknoian:
I like the comparing of his and your tattoos and the ending of the poem.
Posted 07/31/2015 01:27 PM
suebee9@charter.net:
Yes, Tamara!
Posted 07/30/2015 07:32 PM
ghctenmile@earthlink.net:
Thanks, Tamara! In your words, age is the beautiful thing that it can be. ghc
Posted 07/30/2015 03:09 PM
Stephen Anderson:
Very, very nice!
Posted 07/30/2015 01:17 PM
transitions:
Wonderful ! How could anyone not enjoy such poetic truth ~
Posted 07/30/2015 01:13 PM
Lori Levy:
Good one!
Posted 07/30/2015 12:14 PM
forrsher2:
As seen on a bumper sticker: "Scars are tattoos with better stories."
Posted 07/30/2015 10:38 AM
loisflmom:
Love this! At 73 I have all of the above, but my "ink" ones feature dolphins and mermaids.
Posted 07/30/2015 10:28 AM
Jancan:
I'm a retired high-school English teacher. When I was teaching comparison/contrast and parallel elements, I could have offered this poem as a perfect example! This is a great poem. I love it! Janice Canerdy
Posted 07/30/2015 09:23 AM
KevinArnold:
There's something accepting in the tone if this poem, an attractive maturity.
Posted 07/30/2015 08:59 AM
Cindy:
I love this one. My only tattoos also are the ones made by nature and living.
Posted 07/30/2015 08:48 AM
cork:
Is 80 too old for my first tattoo?
Posted 07/30/2015 08:33 AM
anne.lehman2929@att.net:
The contrasts are so wonderful and get the idea of the other across so well. Life's marks are mine as well, but the tattoo artist is certainly crafty.
Posted 07/30/2015 08:24 AM
McCure :
You wrote this about me!
Posted 07/30/2015 07:17 AM
mimi:
lovely and o so true...
Posted 07/30/2015 06:58 AM
Katrina:
I love this transactional analysis synthesised by a power greater than division.
Posted 07/30/2015 06:37 AM
David Lloyd-Jones:
Tamara Madison,

Well done!

Carry on, OK?

-dlj.
Posted 07/30/2015 06:27 AM