When you get to where you are going,
Let that feeling sink into your marrow
Then, with joy in your soul
Look down the long hallway of your life.
Adorned with sparkles and draped with party streamers.
© 2010 Mary Beth Watt.
Used with the author's permission.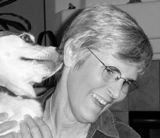 Mary Beth Watt recently moved to Ashland, Oregon, after many years of living in the heart of Silicon Valley. She says, "I have written all of my life, everything from technical documentation to an as yet unpublished novel. But it is poetry I have always come back to,"—reading, speaking, and writing it." Mary Beth starts most mornings with a conference call of between two and ten participants; they first read an inspirational poem, then share their reactions—which often includes poems they've written in response. Learn more about Mary Beth at http://poetryofliving.blogspot.com/.
Mary Lou Taylor:
Wish I had known you in Silicon Valley. What a lovely poem to say goodbye. Or hello. It touched me. I live in Silicon Valley. I'll keep your blog in mind.
Posted 08/01/2015 01:59 PM
rhonasheridan:
Yes - yes - yes! How I agree. Inspirational poem!
Posted 08/01/2015 01:28 AM
Jo:
Fun and a good idea to boot. Thanks Mary Beth.
Posted 07/31/2015 05:07 PM
mimi:
inspirational and bright!
Posted 07/31/2015 07:30 AM