My mother made them from memory
giving me my own memory of winter
in our kitchen, the salty aroma
of peanut butter cookies from the oven,
and the torture of waiting for them to cool
on the window sill overlooking Albert St.
in the Eisenhower '50s of my childhood.
I remember her mixing brown sugar,
butter, and spoons of Skippy. She never
checked a cookbook and they tasted
like no other cookies tasted. "I just know,"
she'd say if I asked her how she did this
then she'd wrap them in foil and sing
along with Perry Como on our radio.
They were as special as she was, a quiet
woman who took small joys in life
around the house. I know she knew
how much those cookies meant to me
for years later she apologized, as if
it were her fault, when a stroke at 80
erased the recipe from her mind.
So she followed a Betty Crocker recipe
and the cookies were tasty and fine
but lacked the magic of what she had lost.
I swore they were as good as the ones
she used to make but I was hiding my hunger
for her own peanut butter cookies, hiding
my fear of the first taste of good-bye.
This poem first appeared in Lips, Vol. 24/25
Used here with the author's permission.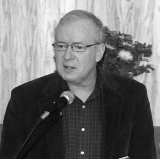 Edwin Romond  is a poet, playwright, composer, and educator. Now retired, he taught English for 32 years in Wisconsin and New Jersey.  Edwin's award-winning work has appeared in numerous literary journals, college text books and anthologies, and has been featured on National Public Radio. He maintains an active schedule of readings and presentations (check www.edwinromond.com to see if he's appearing anywhere in your area) and his most recent book is Dream Teaching (Grayson Books). A native of Woodbridge, NJ, Edwin now lives in Wind Gap, Pennsylvania, with his wife and son.
paradea:
Beautiful!
Posted 11/29/2014 06:07 PM
erinsnana:
Love the poem.. It is amazing how the taste of a favorite food can bring up such memories!
Posted 11/29/2014 12:32 PM
Cindy:
The whole poem is good but those last couple lines are awesome.
Posted 11/29/2014 08:40 AM
phebe.davidson@gmail.com:
That early taste of loss--inevitable and enduring. Thank you, Ed!
Posted 11/29/2014 06:30 AM