there is a voice within us all that if we listen…long enough…hard enough….
we will hear….
it comes from the softness…within our soul….
and when I close my eyes and imagine the sound…it feels like a silk sheet sliding though my fingers….
it is a whisper…that gives us the strength to move forward through a loud cry….
it is a guide…that gives us sight…to navigate in the darkness….
and if we all listen long enough…we will hear each others' voices when our room is silent….
if we all listen long enough…we can quench each others' thirst with the taste of a lingering melody….
and this holiday season…if we allow ourselves to listen….
long enough….
hard enough….
we will hear the sound that begins as a whisper…grow into a song….
and collectively our inner voice…will carol….
From Abigail (Artbook Bindery, 2009).
Used with the author's permission.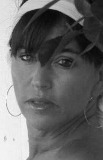 Abby Bernal was born into a family whose mother taught her to imagine, whose father taught her about the value in effort, and whose brother taught her to listen. She graduated with a B.S. degree in psychology, earned a Masters degree in clinical social work, and has built a private practice that she describes as "a gift." A native Floridian, Abby continues to live in Florida with her husband and two beautiful sons. She hopes her writings can touch others in a way that causes them to start "dreaming in the daytime." Learn more about Abby at poetrybyabigail.blogspot.com.
jtmilford:
collectively our inner voice will carol-beautiful.
Posted 11/30/2014 08:03 PM
Wilda Morris:
Lovely!
Posted 11/30/2014 07:03 PM
phoswald:
Stunning and remarkable - a poem for the season and one to save and memorize and pass on to others.
Posted 11/30/2014 01:00 PM
msruff:
I loved the cross-imagery, such as tasting a song. My personal opinion is that it would have been better left without the holiday references, just a whisper that grows into a song, but that's me.
Posted 11/30/2014 10:44 AM
rhonasheridan:
Mmm - just lovely
Posted 11/30/2014 10:11 AM
plgoodman:
Wow, Abby, now the tears. Absolutely beautiful. Cannot be said any better. Thank you so much!
Posted 11/30/2014 08:28 AM