Here we are my grandson, age four, and me.
In old shoes and torn jeans, we use child-sized
scoops and rakes as we  ready the soft earth.

We're planting rainbows of petunias.
The boy's hair splashes sunlight gold; his hands
love the dirt as they scoop holes for starts.

I'm clumsy in the art of planting flowers
but the boy thinks I know everything. He
works close to me, my garden prodigy.

Looking back I recall something I lacked:
I would have traded my Babe Ruth rookie
baseball card for a grandpa with bent back

and torn jeans who planted petunias
with patient hands, and endless time for me.

© Michael Escoubas.
Used here with the author's permission.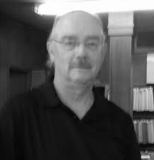 Michael Escoubas studied poetry and poetics for thirty years before he began writing for publication following his retirement from a career in the printing industry. He believes that poetry should elevate ordinary events of life, making them extraordinary. Michael's first chapbook, Light Comes Softly, is currently in production and will be available later this fall.
Katrina:
Beautiful!
Posted 09/13/2015 07:36 AM
Candace:
The gift of time cannot be bought. Wonderful sentiment, Michael.
Posted 09/10/2015 03:49 PM
plgoodman:
Lovely, Michael. You capture it simply and beautifully.
Posted 09/10/2015 03:07 PM
Janet Leahy:
To have "endless time" for a child, a treasure for child and grandfather. Lovely poem, thanks Michael.
Posted 09/10/2015 02:32 PM
Jancan:
a lovely, memorable poem sure to resonate with other poets--especially grandparents! Janice
Posted 09/10/2015 12:55 PM
Larry Schug:
This poem hits close to home. I'm an old guy and I still think about what it would have been like to have known my grandfathers. Very visual poem; I like the picture it paints in my head.
Posted 09/10/2015 10:41 AM
KevinArnold:
Trading a Babe Ruth rookie card is a wonderful way to show deep love in our material world.
Posted 09/10/2015 10:34 AM
Jo:
A loving poem, Mike, and memory making your grandson and you will remember.
Posted 09/10/2015 09:59 AM
Cindy:
I was lucky to have a grandpa like that; he was amazing. Thanks for letting me remember him again.
Posted 09/10/2015 09:33 AM
Belinda:
Beautiful poem, Michael
Posted 09/10/2015 09:15 AM
paradea:
Love it!!!
Posted 09/10/2015 08:37 AM
mimi:
grandfathers are a treasure, for sure...good poem, thanks!
Posted 09/10/2015 08:12 AM
Glen Sorestad:
Such a fine poem, Michael, and an original use of the sonnet form as well.
Posted 09/10/2015 07:26 AM
Ross Kightly:
Rightly viewed there are no 'ordinary' events - as this splendid poem demonstrates categorically.
Posted 09/10/2015 04:34 AM